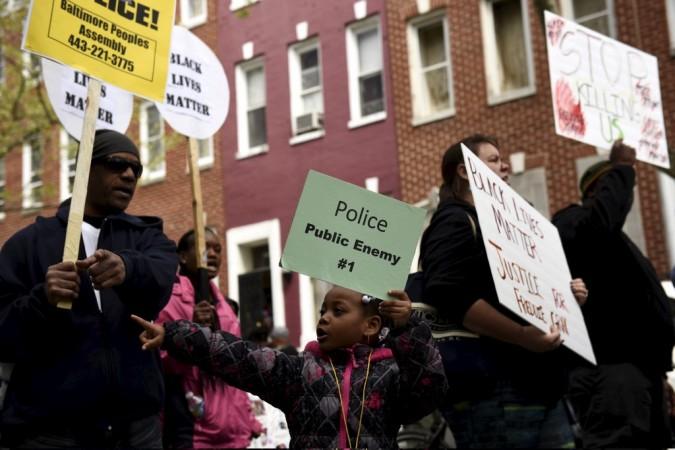 Amid unconfirmed reports of protesters 'brandishing' Isis flag during the Baltimore riots, another rattling claim has emerged that Islamic State (Isis) militants are using the citizen 'uprising' in the city to recruit 'dissatified' blacks for jihad.
The Isis militants, who have time and again made clear their intention to attack the United States, are now trying take advantage of racial tensions in the country to recruit new members in the US, a WND report stated.
The report citing Abu Saqer, leader of Jihadiya Salafiya, an Al Qaeda-affiliated Islamic militant group in the Gaza Strip, stated that Isis was trying to recruit new 'believers' from the African-American community.
Saqer, who spoke to WND from Gaza noted that Isis wants to exploit what it sees as a "growing movement within the black community toward Islam and the racist policies of the U.S. government."
However, there is no confirmation whether Isis has been able to recruit any 'dissatified black Muslim' or for that matter set up a cell in the US. The unsettling claim comes just days after the FBI reportedly started an investigation on possible Isis-inspired terror attack in the United States. The investigation that originated from intercepted chat, now has the FBI investigating a possible terror plot.
It should be noted that this is not the first time that Isis has tried to exploit racial tensions in the US. During the Ferguson protests, Isis Twitter jihadis had pledged to sent fighters to the US to fight the police on behalf of the citizens, London Daily Mail had reported.
The same report even carried a Twitter photograph of a handwritten letter written by London-born jihadist Junaid Hussain, who now goes by the name Abu Hussain al-Britani, urging Ferguson protesters to "reject corrupt man-made laws like democracy" and declare their allegiance to Isis leader Abu Bakr al-Baghdadi.
There also have been reports of Isis supporters 'brandishing' an Islamic State flag during the Baltimore riots, according to Pamelageller.com.
Thanks, Obama. Now terrorists are seeing a way in. pic.twitter.com/LQADj7FXLs

— Franci (@LadySandersfarm) April 28, 2015
Since the Freddie Gray funeral, Baltimore has been gripped by violence and rioting, forcing Maryland's governor to activate the National Guard on Monday; the city of Baltimore has put under curfew.