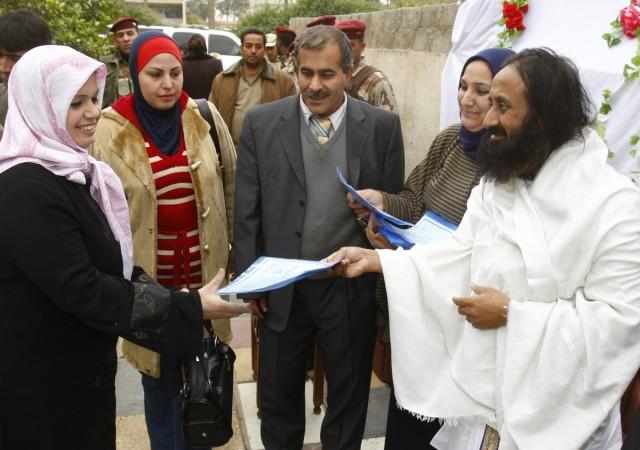 In the letters addressed to Malaysian office of Art of Living Foundation and hotel where organisation's founder Sri Sri Ravi Shankar is staying, the Islamic State has allegedly threatened to kill the Indian spiritual leader if he will carry out "Hindu activities" in Malaysia.
The Indian Embassy in Malaysia has been alerted about the threats and the spiritual organisation has reportedly been investigating the source of the death letters.
"The authorities have immediately notified the local authorities. We also contacted the Indian Embassy and we also conducted an investigation to find the source of the letter. We are going ahead," PTI quoted an aide of Ravi Shankar Nakul as saying.
"Sri Sri Ravi Shankar is touring some countries in the far east and he landed in Malaysia yesterday and few days ago while he was in Cambodia, we received threat letters from ISIS, one was received by the hotel manager, one was received by the director of Art of Living and one by senior faculty and the content of the letter is very threatening saying if you go ahead with the programme there will be consequences," Nakul added.
The letter addressed to the manager of Hotel Jen, where Ravi Shankar is staying, stated that he is carrying out conversion of "Muslims in Iran and Iraq" despite claiming that he along with his organisation is "non-religious," India Today reported.
ISIS threat to Sri Sri Ravi Shankar: Pics of courier/ threat letter received in Malaysia. pic.twitter.com/gd3VCY4zTf

— ANI (@ANI_news) March 28, 2015
The letter threatens to kill Ravi Shankar and thousands of people along with him if he enters Malaysia and warned him not to meddle with the Islamic affairs in Iran and Iraq.
"If he steps foot into Malaysia your hotel and venues of his activities will be destroyed and many thousands will die for him. We don't want Ravi Shankar to step into any Muslim country," the letter read.