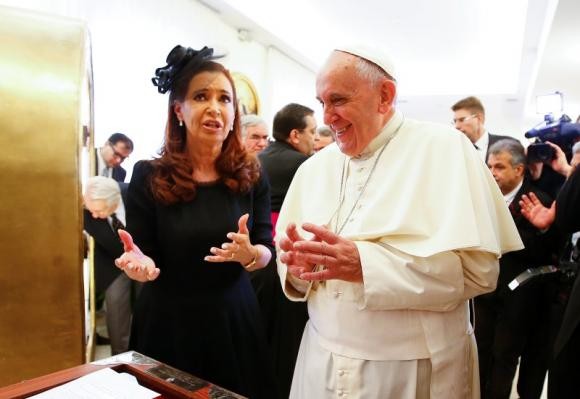 The Islamic State militants currently waging a war in Iraq and Syria have reportedly issued a death threat to Argentine President Cristina Fernandez for her 'friendship' with Pope Francis.
Fernandez spoke about the threats from ISIS during a trip to the Vatican on Saturday after a meeting with Pope Francis. She noted that the threat was made against her as she is considered a friend of 'Pope Francis' and recognises both Israel and Palestine as two separate countries.
"The complaint made by two police officers was because Islamic State threats had appeared against me," Fernandez told reporters at Rome's Ciampino airport after meeting Francis for lunch, reported Reuters.
Dismissing the threats, she saying if she focused on such menaces she "would have to live under the bed". The intelligences officers and security staff in Argentina are working on the death threats, the President noted.
Islamic State, a Sunni Muslim extremist group which has seized swathes of territory in Iraq and Syria considers the West as its enemy.
The terrorist group has beheaded two American journalists and a British aid-worker. There also have been several reports claiming an Islamic State assassination plot against the Vatican head.
Last month Pope Francis, who has often condemned the concept of war in God's name, said it would be legitimate for the international community to use force to stop "unjust aggression" by ISIS militants who have killed or displaced thousands of people in Iraq and Syria.
Security in Vatican has been beefed over the Islamic State threat.
"What has been declared by the self-declared Islamic State is clear – they want to kill the Pope. The threats against the Pope are credible," Habeeb Al Sadr, Iraq's ambassador to the Vatican told La Nazione, an Italian daily, reported The Telegraph.