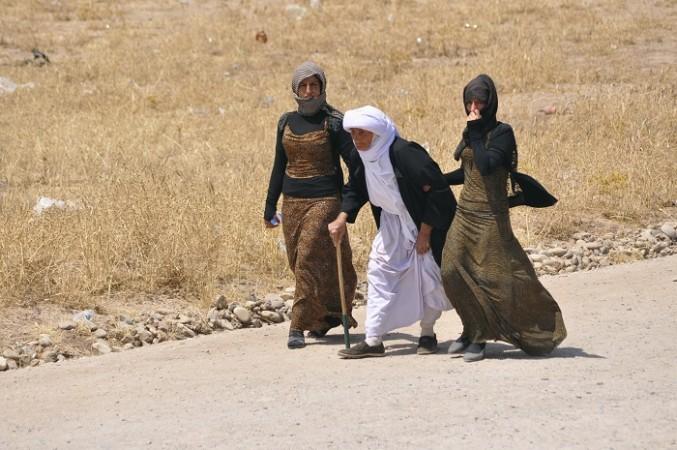 The US government has authorised airstrikes on Islamic State militants in and around Sinjar to save the Yazidis but the condition of the refugees hiding in the mountains is getting worse.
According to reports more than 40,000 Yazidis, including 25,000 children, are hiding from the militants in the Sinjar mountains. Left with no food and water, many have reportedly resorted to eating leaves from trees to survive.
Kurdish news agency Rudaw claims that their correspondent Barakat Issa is also stuck in the mountains, along with the refugees.
Citing Issa, the news agency claims that 70 people have died of starvation so far, while the bodies of children and elderly can be seen scattered on the mountains.
"People walk the length of the mountain with no food and water and some have resorted to eating leaves off he trees," the report quoted Issa.
The trapped Sinjar residents are also battling diseases, while the terminally ill are at grave risk.
Even the few who attempted to get down the mountain had to run back, after they were fired by Islamic State militants.
According to UNICEF, there are 25,000 children in the mountains between Sinjar and Tal Afar, without food or water.
The situation in Iraq has been dire for the Yazidis as the Islamic State considers the minority sect as devil worshipers.
Meanwhile, a few civilians trapped in the mountains were rescued in an operation overseen by the United Nations, reports claimed on Thursday.
"We are just receiving the information right now. We have just heard that people over the last 24 hours have been extracted and the UN is mobilising resources to ensure that these people are assisted on arrival," ITV quoted UN Spokesman David Swanson as saying.
On Thursday, US President Barack Obama reportedly authorised airstrikes on Islamic State after the militants made major advances towards Erbil. Reports also claim that the US will coordinate relief and rescue of the Yazidis trapped in the mountains.
Heartbreaking photos from #Sinjar Mountain...#genocide and #ethnic #cleansing unfolds again #IS #TwitterKurds #IDPs pic.twitter.com/WfZeCgPlTf

— Shivan Fazil (@ShivanFazil) August 6, 2014
The mother of Tal Afar, a #Turkmen protect her children from the terrorists on the banks of the mountain in Sinjar! pic.twitter.com/e8O1z3O0W5

— Mehdi ALbayati (@mehdimuhtaroglu) August 5, 2014
#Sinjar mountain in the hands of thirst in the head with an empty plastic glass to stone backdrop of Turkmen children pic.twitter.com/38ZdPuLIXa — Mehdi ALbayati (@mehdimuhtaroglu) August 4, 2014
#Iraqi Yzedi elder tells me from Sinjar mountain that thousands have climbed to escape IS fighters - no food, no water and no safety.

— jane arraf (@janearraf) August 4, 2014
A frantic call from a friend who has fled Sinjar and is on the mountain with his family. "no food, no water, no peshmerga…." #Iraq #Yezidis — Jacob Russell (@jmrp09) August 4, 2014
Thousands of Ezidi Kurd families have fled their home & some of them are stuck in Sinjar mountain #PrayforEzidiKurds pic.twitter.com/sx394Zs3z9

— Karez (@karez1103) August 3, 2014