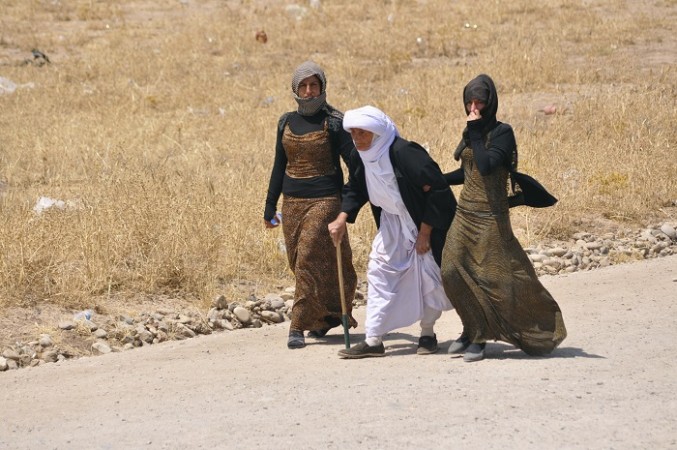 Several Yazidi survivors have recounted horror stories of having to watch their daughters, wives and sisters forcefully taken away them by Islamic State militants.
When Islamic State stormed the town of Sinjar, forcing out the Kurdish Peshmerge forces, the Yazidis - whom the Islamic State State considers as "devil worshippers" - had only two choices - stay and risk being killed and raped by the jihadists or flee across the desert, facing starvation and thirst.
And in its week-long offensive in the areas in and around Sinjar, the militants reportedly executed more than 500 people. Also, around 300 women were kidnapped by the militants, who plan to use them as slaves, accordign to Reuters.
In one incident, a 23-year-old was brutally raped and was then asked to run to the Sinjar mountains.
Over 40,000 residents had fled to the surrounding mountains and were hiding there.
"The girl said 'kill me,' and when we asked why, she said the militants had raped her and told her to go to the mountain and tell the others what had happened," Qasim Aata, who was among the ones rescued from the mountains, told local news source Rudaw.
Local agencies claim that the number of those abducted could be over 500.
A Yazidi man, citing what he was told by his female relatives trapped in Sinjar, said: "They (the jihadists) came into our room and openly said who was the prettiest or the funniest (to be with)."
Karim Rito, 46, a Yazidi resident of Shingal, said he had seen two ISIS vehicles "full of women" going out of Sinjar.
Rito pointed out that the most number of women were taken from the Yazidi localities of Sheikh Khider, Gir Uzer and Gir Zarkey.
"The ISIS attacked these villages first," he said, "and the residents had no chance of escape."
Rito claims that most of the kidnapped women have already been transferred to Syria, Mosul and Baaj.
On Sunday, reports from Sinjar had brought some shocking revelations.
"We have striking evidence obtained from Yazidis fleeing Sinjar and some who escaped death, and also crime scene images that show indisputably that the gangs of the Islamic States have executed at least 500 Yazidis after seizing Sinjar," Iraq's human rights minister Mohammed Shia al-Sudani told Reuters.
"Some of the victims, including women and children were buried alive in scattered mass graves in and around Sinjar," he added.
Twitter updates
HUNDREDS OF #EZIDI #women enslaved by #ISIS face horrific unthinkable sexual crimes, #torture & death. #Yezidis #Yazidis #TwitterKurds

— @Hevallo (@Hevallo) August 11, 2014
An Iraqi #Yazidi intellectual i know just wrote me that captured Yazidi women are indeed being sold by ISIS. #Yazidis — Elham Manea (@ElhamManea) August 11, 2014
#ISIS takes hundreds of Yazidi women hostage http://t.co/gnkqqZpQ6R - pic shows displaced Kurds v @FahadMazharBaig pic.twitter.com/IooKHeFB6W

— Raza Rumi (@Razarumi) August 8, 2014
ISIS abducted hundreds of Yazidi women & girls for "brides," giving them "choice" of conversion or death. http://t.co/E0eNOduPYq — Kenneth Roth (@KenRoth) August 10, 2014
Kurdish Yazidis who escaped from the Sinjar mountain are coming to Kurdistan Region after they went to Syria side pic.twitter.com/UEWnjFOyHo

— Zana Mahmood (@ZanaMahmood2) August 11, 2014
This is not a Bible story film. These are Yazidis marching to safety, under protection of Kurd militia & US planes pic.twitter.com/JVGSNnT0fb — The Big Pharaoh (@TheBigPharaoh) August 10, 2014