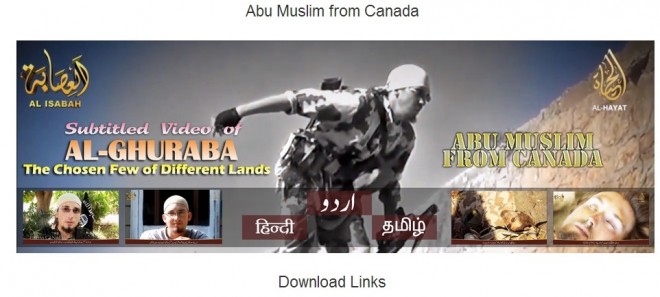 A new propaganda video by ISIS, that is doing the rounds of the Internet, is a clear indication of the jihadist outfit's attempts to reach Indian youth, as the video has been subtitled in Hindi, Tamil and Urdu.
In the 11-minute-long video that was uploaded last week, a Canadian youth, who identifies himself as Abu Muslim, is shown speaking about his life in Canada and how he converted to Islam six years ago before he went to Syria to join the Islamic State (earlier known as the Islamic State of Iraq and Syria (ISIS).
"I was like any other Canadian before Islam, I made over 2000 dollars as a street janitor, I always had my family to support me. I was not an anarchist or a social outcast. I was a regular person. Mujahideen are regular people too," he says in the video (uploaded at the end of this article).
Talking about the Islamic State's call for jihad, he says, "This is more than just fighting. We need engineers, we need doctors, professionals, volunteers. Every one can contribute to the Islamic State. If you cannot fight, you can give money, if you can't give money, you can assist in technology or help in building roads here (in Syria)".
"We can easily find accommodation for you and your families in Syria. Come and join before the doors close," he says, in a professionally designed video, complete with voiceovers, background music and freeze frames.
The video ends with Abu Muslim's death captured on camera in an attack at Syria's Minnigh airport, with images of him being shot and close-ups of his dead body.
Links to the video have been uploaded by Al Isabah Media on their Facebook page, offering versions of the video in Hindi, Tamil and Urdu, probably aimed at ensuring it is understood by the youth in India, and especially those in the state of Tamil Nadu, where several youths seem to be enamoured by the ISIS propaganda.
Two youths in Tamil Nadu were arrested earlier this month for selling T-shirts with the ISIS emblem. Earlier this year, a Tamil Nadu youth had joined ISIS, according to The Times of India.
Hindustan Times reported that at least ten Muslim youths had quit their lucrative jobs to join the Jihad cause as per information by security agencies.
However, Youtube has removed the videos, stating that 'This video has been removed as a violation of YouTube's policy on violence'.
The video in English can be watched here -