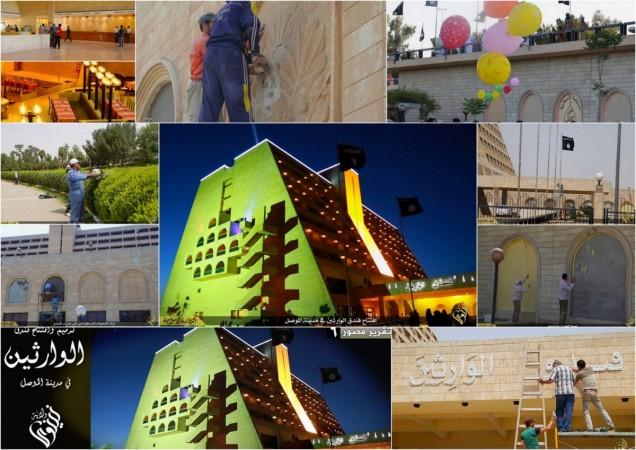 The Ninawa International Hotel, which was once listed as one of the finest five star hotels in Iraq, has now been reopened by the Islamic State militants to house its top commanders.
The Isis, in a recent circular, announced that it has revamped and opened the 11-storey, 262-room luxury hotel, located near the landmark al-Ghabat forest on the banks of River Tigris in Mosul, to host its top dignitaries.
Several online photos of the Ninawa International Hotel show workers preparing the hotel for its guests. And in order to make the hotel Sharia compliant, a couple of workers are seen removing the wall sculptures on the façade.
The luxury hotel, which was quite popular among tourists once, will not serve alcohol any more. Music, dancing, smoking and gambling are also reportedly not allowed. The casino and presidential suites will now be used for housing Isis commanders and hosting weddings of jihadi brides, according to reports.
The refurbished Ninawa International Hotel has two ballrooms, two restaurants and a garden lined up with palm trees apart from other facilities including gymnasium, swimming pool and tennis court.
A reviewer back in 2013 noted that Ninawa International Hotel hosted the best casino games and its presidential suites offered great luxury at affordable rates.
Another reviewer on TripAdvisor had said: "Its the one of the best hotels thats I had already visit before. Its actually so comfortable and has a nice view with a large garden and a nice look to the river and in the most beautiful street in Mosul (al-Ghabat).