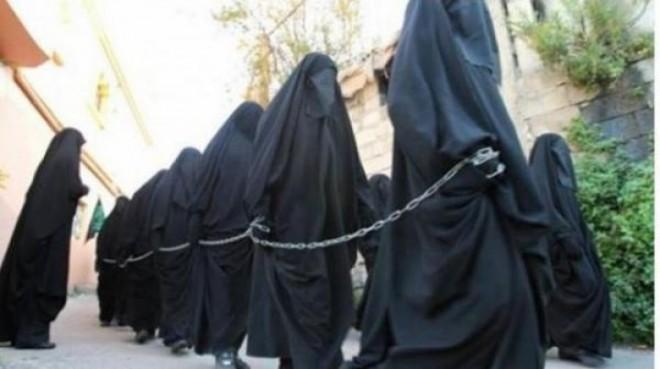 Living under a constant fear of rape and abuse at the brothels of Iraq and Syria, the captured Yazidi women say they would rather embrace death than a life like this. A young woman reportedly held by ISIS militants spoke to activists working with Compassion4Kurdistan over telephone and begged them to ask the West to bomb her location.
The unidentified woman is a prisoner of the ISIS jihadists, who have kept her as a sex slave along with several other women in Iraq. A Daily Mail report claimed that the unidentified woman was among the hundreds who were captured by ISIS during the Sinjar massacre in early August.
Compassion4Kurdistan, which works on raising awareness of ISIS' persecution of women in Iraq and Syria, told BBC World Service how the Yazidi women plead for the brothel to be bombed as that would end their misery.
For the Islamic State militants, who belong to the Sunni sect of Muslims, the Yazidis are nothing but devil worshippers and hence killing and abusing them does not count as 'wrong' at all. Reports have found that the ISIS operates brothels in Raqqa in Syria, and Mosul in Iraq.
"
"I've been raped 30 times and it's not even lunchtime. I can't go to the toilet. Please bomb us."
"
- A young Yazidi Slave captured by ISIS
It has been found that thousands of kidnapped Yazidi women, who are held in these Islamic State's brothels, are being managed by top British female jihadists, who are tasked with maintaining the ISIS' brothels and disciplining the women.
Over the phone, the young Yazidi women alleged she was raped dozens of times. "If you know where we are please bomb us... There is no life after this. I'm going to kill myself anyway -- some have killed themselves this morning," she was quoted as saying.
"I've been raped 30 times and it's not even lunchtime. I can't go to the toilet. Please bomb us," the Yazidi woman begged over the telephone.
Reports have found that in the ISIS slave markets, the captured stock -- women, girls and young boys -- are even forced to carry price tags.
In the past, several Yazidi women have ended their lives by jumping off cliffs during the capture of Sinjar mountain by ISIS. "My daughters were calling on people to kill them, but no one wanted to do that. So they jumped from the mountain and ended their bitter life," the mother of girls had told a local news source.
United Nations, which has called the persecution of the Yazidi community by ISIS "an attempt to commit genocide" in a statement earlier this month condemned "the explicit targeting of women and children and the barbaric acts the Islamic State has perpetrated on minorities in areas under its control".
"We remind all armed groups that acts of sexual violence are grave human rights violations that can be considered as war crimes and crimes against humanity."
Recently, the Compassion4Kurdistan group also staged a mock sex slave market in London to raise awareness on the situation of Yazidis in Iraq.