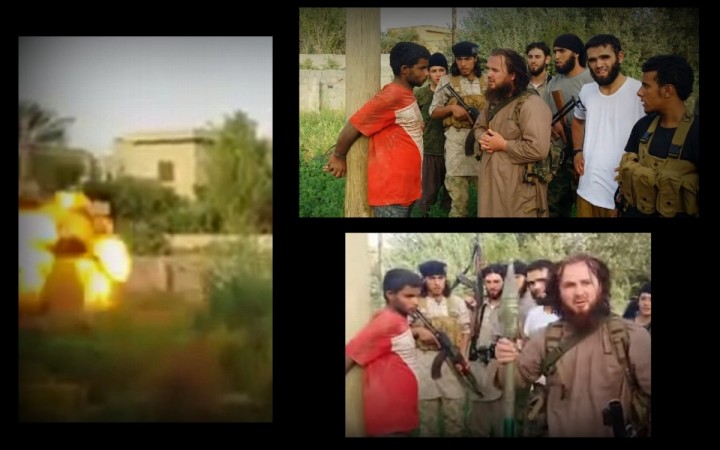 A video of Isis militants executing a Syrian fighter using an anti-tank rocket launcher, commonly referred to as Bazooka, has shocked the world. The clip released by a Syrian media activist on Thursday shows the brutal execution of Ibrahim Shraideh for "fighting the Isis".
Shraideh, a young man from the al-Shaitat clan in Deir ez-Zor province, was executed on Wednesday, Raqqa is Being Slaughtered Silently (RBSS) -- an underground media group -- posted on its website.
An RBSS activist, who goes by the nom de guerre Abu Mohammad confirmed to the IBTimes India through an e-mail that Shraideh was executed on 20 May in Abu Hammam town. He was a Syrian national, affiliated to the Free Syrian Army, Abu said.
Abu also told the IBTimes India that the bearded man, who executed the Syrian youth using an RPG, is a Kosovo Albanian national - Lavdrim Muhaxheri. The 25-year old man has previously appeared on other Isis videos carrying out gruesome punishments. He also figures on the Interpol list of wanted men.
In the execution video, the Isis fighters interrogate the youth, who admits to the camera that during a fight, he killed two Isis fighters in Hai Sanour with a rocket-propelled grenade (RPG). The Isis fighters then declare that as per Sharia, it should be an 'eye-for-an-eye.'
The Isis fighters in video, who according to RBSS are from Tunisia and Morocco, then claim that they want to avenge their brothers by killing the enemy as that is what 'Allah' wants of them.
Then amid sounds of celebration and hooting, an Isis fighter fires the anti-tank grenade at the man, The video ends with the Isis militants chanting 'Allahu Akbar'.
The al-Shaitat tribe
The al-Shaitat is a Sunni Arab tribe of Deir ez-Zor Governorate that has been opposing the Isis 'encroachment' of its lands since July 2014.
The tribe, however, was brutally crushed by the Isis in August 2014 after a three-day battle in which the militants carried out a massacre by shooting, beheading and crucifying some 700 members of the tribe, The Washington Post had reported.
The members of the tribe, which once used to be 70,000 strong, still continue to carry out attacks against Isis.