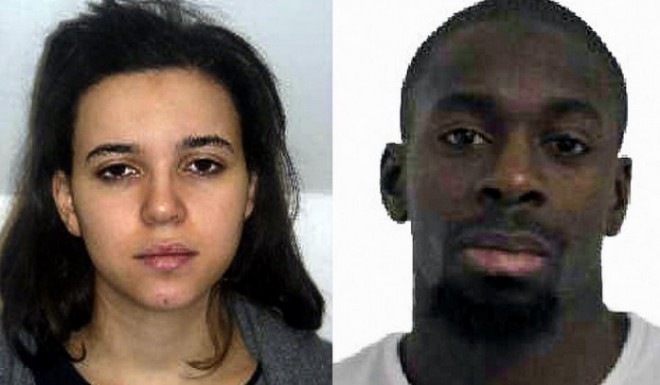 Hayat Boumeddiene, believed to be the wife of Amedy Coulibaly, the gunman who killed five people during France's terror siege last month, has reportedly been interviewed in a new magazine of the Islamic State, days after she was apparently seen in an ISIS video.
The ISIS magazine 'Dar al Islam', carried an interview of a woman purported to be Boumeddiene, published by the French wing of the group's media arm 'Al Hayat', France's 20 Minutes reported.
In the interview, Boumeddiene, the most wanted woman in France, propagated ideas similar to those mentioned in the ISIS women's manifesto published by the all-female Khanssaa Brigade last month, according to Charlie Winter, a jihadism researcher, who tweeted a photo of the magazine.
In the interview, Boumedienne tows #IS line on women, referring specifically to Asiya & Mariam, as per my translation of Khanssaa manifesto.

— Charlie Winter (@charliewinter) February 11, 2015
He, however, said that the magazine may be a publication issued by the supporters of the terror group.
Boumeddiene is believed to have been seen last in an ISIS video, titled '"Blow Up France 2" which showed a female fighter wearing military fatigues and holding a rifle.
She is said to be the wife of Coulibaly, who had pledged support to the Islamic State in a video that surfaced soon after the kosher supermarket attack.
The new magazine, with a cover headline reading 'May Allah Curse France', incites more attacks in France similar to the terror siege last month, when jihadists shot dead cartoonists at Charlie Hebdo and then killed people at a Jewish grocery store in Paris before being killed by the police.