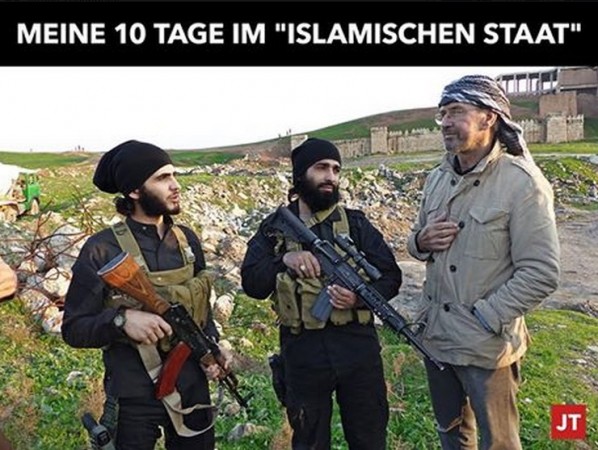 German author and former politician Jürgen Todenhöfer who returned from the Islamic State last week has warned that the ISIS was pushing for the 'largest religious cleansing campaign' in history.
He also said that people under the jihadists' rule live in fear but appreciate the stability it has given them.
"130,000 Christians have been evicted from the city, the Shia have fled, many people have been murdered and yet the city is functioning and people actually like the stability that the Islamic State has brought them," said Todenhöfer.
Todenhöfer had claimed that he was the "first western journalist in the world who could visit the Islamic State" and said that he visited ISIS strongholds of Mosul in Iraq and Raqqa in Syria.
He had warned on his return that the Islamic State was "more powerful and dangerous" than the West believed, through a post on his Facebook page and had promised to post a full account of his travel.
He described the way of life he saw under the ISIS rule as one of fear, as the jihadist group's brutal punishment to non-followers is now well-known.
"Of course many of the them are quite scared, because the punishment for breaking the Islamic State's strict rules is very severe," he told CNN.
However, he pointed out that the ISIS rule had brought in a semblance of stability to the conflict-ridden region.
The German highlighted the alarming rate of fighters travelling from across the world, including from Europe and the US to join the ISIS every day, as he described the "glow in their eyes."
"When we stayed at their recruitment house, there were 50 new fighters who came every day. And I just could not believe the glow in their eyes. They felt like they were coming to a promised land, like they were fighting for the right thing," he said.
Todenhöfer revealed some of the shocking realities under the ISIS, such as child soldiers armed with AK-47s and rampant slavery and beheadings.
"They believe in what they are fighting for and are preparing the largest religious cleansing campaign the world has ever seen," he said.
A German fighter who joined the terror group said in an interview to Todenhöfer that "slavery signals progress."
"I would say that slavery is a great help to us and we will continue to have slavery and beheadings, it is part of our religion ... many slaves have converted to Islam and have then been freed," the fighter told Todenhöfer.
Todenhöfer said he had negotiated with the Caliphate leadership over Skype for months before his visit, and stated that he made the journey because he had covered "all sides" over the last 50 years.
He claimed to have even visited the mosque from where Abu Bak al-Baghdadi, the self-proclaimed caliph of the Islamic State, made his public address.