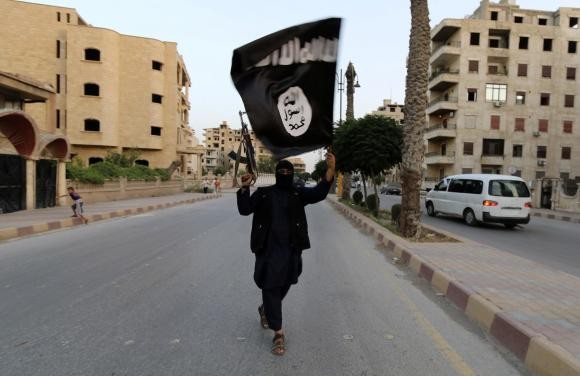 After Jammu and Kashmir Chief Minister Omar Abdullah dismissed the appearance of black flags symbolising the Islamic State as an act of "some idiots," senior Army officials said it merits the "highest attention of security agencies."
General Officer Commanding of the Army's 15 Corps, Lieutenant General Subrata Saha, the senior most military officer in Kashmir, said the Islamic State, the militant outfit that has taken over large swathes of territory in the Middle East, had the ability to attract volunteers, especially the youth.
"The ability of ISIS to attract large number of volunteers is a matter of concern. There are believed to be 10,000 to 15,000 volunteers at present fighting for ISIS. The fanaticism shown by the fighters is also a cause," Lt Gen Saha told Press Trust of India.
"The emergence of ISIS flags merits concern and deserves the highest attention of the security agencies to prevent the youth of Kashmir from getting lured (into ISIS)," he said. "This is something that all security agencies must look into with utmost priority," he told ANI.
Saha also expressed concern over reports on youths from different parts of the country joining the Islamic State.
"Media reports have suggested that some youths from Mumbai and Hyderabad had joined ISIS. There was even a report about a Kashmiri-origin youth living somewhere else (Australia) having joined," he said.
Saha has called security agencies to be "conscious of any indicators" about the ISIS ideology finding takers in Kashmir.
The Army official's statements came a day after Abdullah chose to play down the issue of some protestors in the Valley waving the Islamic State flags during Eid this month and even earlier.
"You have to understand that no ISIS group has been identified so far in the Valley. The flag... was waved by some idiots, which does not mean that ISIS has any presence in Kashmir. Unfortunately, some channels have tried to make an issue out of this and drag me into this as if we are not doing anything about it," Abdullah had said.
India is yet to take any concrete steps to prevent the radicalisation of Indian youths by the outfit through the Internet and other channels, and also to address these effectively when they return home from ISIS-held countries.