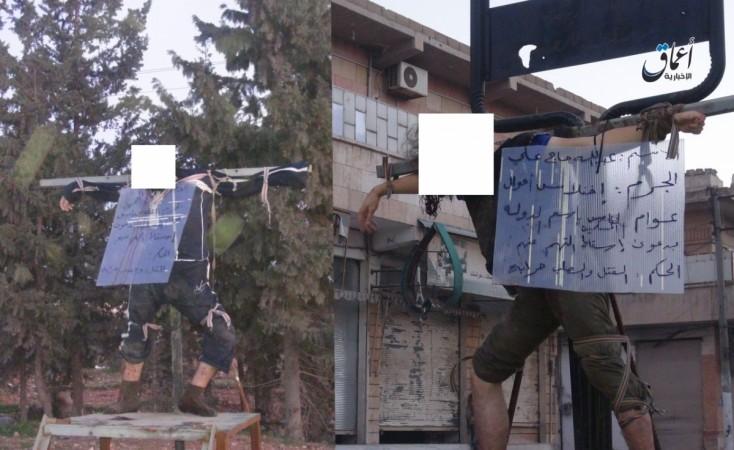 The Islamic State (ISIS) militants have reportedly crucified two members of the Sharia court for taking bribe from the families of detainees arrested by the outfit.
As per the report released on the ISIS-affiliated accounts, the two ISIS men were executed on Wednesday in Aleppo, Syria.
A photo report released by the group shows that the two were crucified in a market square and a board was hung around their necks describing their crimes.
The two ISIS men were reportedly found to have taken money from several relatives of those being tried by the local Sharia court in Aleppo.
It is said that the two promised the family members that they would mediate on their behalf in the court and would drop the charges, if the families could 'pay up.'
The two men have been identified as "Abdullah al-Haj Ali" and "Mahmoud al-Hamwi."
This is not the first time that ISIS has punished its own men for their crimes. Back in June, the Islamic State executed and crucified one of its men for extorting money.
According to Al Arabiya report, a placard that was hung around the neck of dead man read: "Guilty: Abu Adnan al-Anadali. Sentence: execution and three days of crucifixion. Motive: extorting money at checkpoints by accusing drivers of apostasy."
Similarly, in October, the ISIS publicly beheaded two of their own fighters after they were accused of 'banditry' and spying on behalf of the Syrian government. The executions took place in the Syrian city of al-Bukamal after the two men were arrested by members of the terror group's police force and brought before a Sharia law court, the Daily Mail had reported.