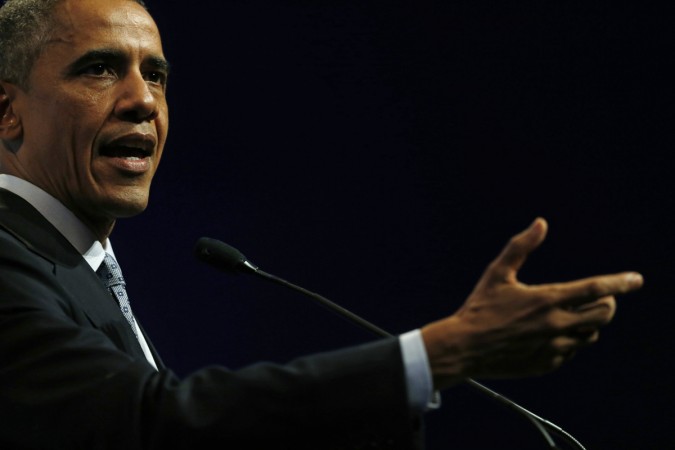 US President Barack Obama has reacted sharply to the latest ISIS video showing the beheading of American aid worker Peter Kassig and called it an "act of pure evil".
"Abdul-Rahman (Kassig) was taken from us in an act of pure evil by a terrorist group that the world rightly associates with inhumanity," Obama said in a White House statement.
"Like Jim Foley and Steven Sotloff before him, his life and deeds stand in stark contrast to everything that ISIL represents. While ISIL revels in the slaughter of innocents, including Muslims, and is bent only on sowing death and destruction, Abdul-Rahman was a humanitarian who worked to save the lives of Syrians injured and dispossessed by the Syrian conflict."
Insisting that the terrorist group's actions represent no faith, "least of all the Muslim faith which Abdul-Rahman adopted as his own," Obama added that people's faith in humanity will not be lost over this incident.
"Today we grieve together, yet we also recall that the indomitable spirit of goodness and perseverance that burned so brightly in Abdul-Rahman Kassig, and which binds humanity together, ultimately is the light that will prevail over the darkness of ISIL," he said.
Defence secretary Chuck Hagel told reporters that Kassig had "extraordinary values and principles," and that his goodness and kindness while helping those in need "cost him his life".
"No one wants to live in a world of this kind of inhumanity and brutality, and all of us as human beings have a responsibility to see that it doesn't happen. It's difficult, but we will prevail," said Hagel.
Unlike previous videos that showed the killings of US journalist James Foley and Steven Sotloff as well British aid workers David Haines and Alan Henning, the latest footage does not show Kassig alive in the beginning of the video.
The new video also does not include the threat to kill the "next hostage". (Read: Who Is Next Victim After Peter Kassig?)
Kassig, who served in Iraq in 2007 and 2013 travelled to Syria as an aid worker, was captured and taken hostage by the notorious jihadist group in October last year. The militants had threatened to behead him in another video showing the murder of the British aid worker Alan Henning over a month ago.