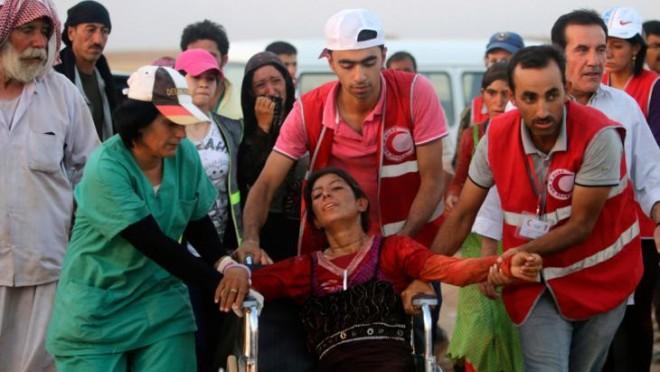 The Islamic State (Isis) has banned abducted Yazidi women, meant to be sold as sex slaves, from wearing headscarf, as many of the girls used it to hang themselves, a UN special envoy revealed.
Zainab Bangura, a special representative of the UN secretary general on sexual violence in conflict, has interviewed several Yazidi women who escaped from the Isis. She has accused the Sunni militants of forcing the Yazidi women to perform "extreme sexual acts".
She also revealed that when one girl had refused to submit to the whims of an Isis fighter, she was burned alive. The UN investigation also found that after abducting the girls, the Isis fighters were stripping them naked to check if they were virgins. They reportedly evaluate the girls' physical attributes before selling them at the sex slave market, a Press TV report noted.
The report also highlighted that the Isis slave traders send the "prettiest virgin" girls to Raqqa, which is Isis' defacto capital in Syria, as there is a high demand for them in the region. Many people pay very high price for "pretty virgin girls" there.
After being subjected to constant abuse, many of the captured girls committed suicide. The Press TV report, citing Bangura, noted that the militant group recently banned the sex slaves from wearing headscarf, after they (Isis fighters) observed that many of the abducted Yazidi girls were using it to commit suicide.
Living under constant fear of rape and abuse, a Yazidi woman, held as a sex slave in Syria, had last year pleaded activists working with Compassion4Kurdistan to ask the West to bomb her location.
"If you know where we are please bomb us... There is no life after this. I'm going to kill myself anyway -- some have killed themselves this morning," the Yazidi said in October 2014.
"I've been raped 30 times and it's not even lunchtime. I can't go to the toilet. Please bomb us," the Yazidi woman had begged over the telephone.
Related