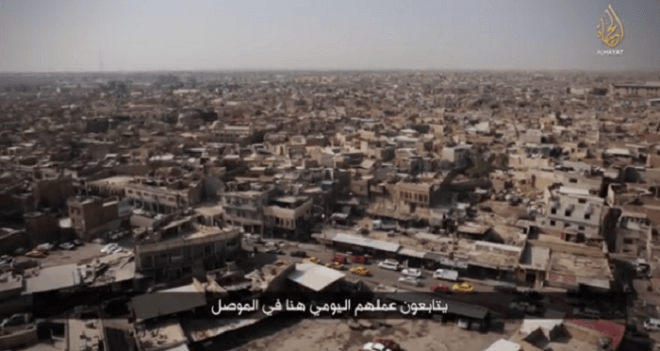 After Kurdish Peshmerga forces launched an offensive against ISIS targets in Mosul, Islamic State militants have accused Peshmerga soldiers of killing civilians using poisonous gas.
In a statement purportedly issued by the Ninevah media wing of Islamic State (ISIS) on justpaste.it, the group said, "Secular Kurdish Peshmerga militias bombard the Muslims in Mosul with American poison gases...which led to killing dozens of Muslims by suffocation and injuring dozens."
Mosul,which was taken over by the Islamic State in June last year after the group overran swathes of land in Iraq and Syria, is the second largest Iraqi city and the de facto command centre for the group out of Iraq.
"In an outrageous new aggression by the secular Crusader Coalition against the Muslims, the Kurdish Peshmerga militias bombarded the Muslims this evening with poison gas in 'Uraybi and Islah Al-Zira'ei Districts, which led to killing dozens of Muslims by suffocation and injuring dozens; and there is no Strength, except with Allah Almighty," said the statement, released in English and Arabic.
The group vowed to give a 'backbreaking response' to the 'Kurdish Peshmerga militias and their masters.' It did not give out any information on the number of killed and injured.
However, a Twitter account with ties to the Peshmerga forces stated that it was ISIS which bombed the water project in Mosul with chlorine gas and is now accusing the Peshmerga.
These allegations could not be independently verified.
Meanwhile, reports have confirmed that the Peshmerga forces for the first time since they were pushed out of the city by ISIS, attacked ISIS areas in Mosul.
The Kurdish forces on Friday reportedly fired 20 Grad missiles after receiving information that ISIS militants were gathering to meet near the city's Zuhour neighbourhood.