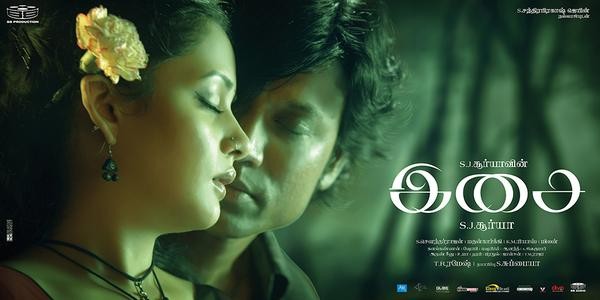 The much-awaited SJ Suryah movie is released and as the makers wished, the film has opened to positive reviews. Though critics have pointed out some meager flaws in the script, but they say that the movie is worth a watch and is much better than the recent big ticket Tamil films.
The story revolves around a maestro musician Vetriselvan (Sathyaraj) and his assistant AK Shiva (SJ Suryah). One day Shiva gets an opportunity to work as a composer in a small film. When he seeks his guru's blessings to go ahead, he gets permission as Vetriselvan never dreamt that his assistant would be the biggest competitor of his life. Soon Shiva's music hits popularity and he becomes a sensation.
But Shiva's success does not go down well with his master and what follow is Vetriselvan's efforts to end Shiva's career and bring back his lost glory as the master of music.
Performance of the actors, unconventional ending, technicalities and music are reviewed as the biggest positives of the movie. However, the long duration and predictability of the story in the first half fails to put the film in top notch.
Here are the reviews of "Isai" by various critics.
"Climax is what makes or breaks a movie! The satisfaction from a climax directly depends on the process it puts the subjects through. The more difficult the process, the more fruitful is the level of satisfaction from the climax. SJ Suryah draws courage from the new wave cinema in Tamil and comes with an unconventional ending. Appreciation first of all for trying something different."– Behindwoods
"Isai is a brave attempt by SJ Surya. He is one director who can make a not-so-great story look brilliant on screen and Isai is definitely one of his finest work. All lead actors have done a fantastic job in this movie. They in fact hold together the entire movie which would've otherwise gone down as an ordinary film thanks to its predictable screenplay (in the first half). Supporting actors too have done what is required and have bailed Isai out of trouble." – Filmibeat
"Music is the soul of this movie. SJ Surya who debuted as music composer for this film has impressed with his songs and background score. Cinematography by Soundarajan is once again impressive. Screenplay is not up to the mark as expected. The story of the film is predictable in some scenes." – Iluvcinema
"SJ Suryah and Savithri are performed well. As usual legend Sathya Raj gives his another visual treat. After the interval movie gets some slow. The screenplay may be little bit tighten. Music is okay. It's worth to watch the movie in theater." - Cinecafenow
"For a film set against the backdrop of a vibrantly active industry, the staging is oddly insular. (And a film about musicians could have used better music.) And yet, I found 'Isai' a better watch than the recent big-ticket movies we've been subjected to. It has to do with the plot, which gradually becomes so preposterous that the sheer whatever-next factor pulls you through. After a point, the film lurches madly between psycho-thriller, Victorian melodrama (think 'Gaslight'), horror-movie staples, and — I kid you not — a meta musing on the director's long absence from the screen and his return to it. Whatever else, you have to hand him points for audacity" – The Hindu
"Though most part of the screenplay is taut, at times it becomes predictable and drags. But post interval there's never a dull moment and especially the last 30 minutes, it is director Suryah's intelligently woven brave attempt that enthralls the audiences keeping them hooked to their seats. Cinematographer Soundarrajan should be lauded for capturing the right mood of the film with his alluring lighting compositions. A bit of trimming would have helped. Nevertheless, with Isai, Suryah sends out a strong message that 'he is back with bang'!" – Deccan Chronicle