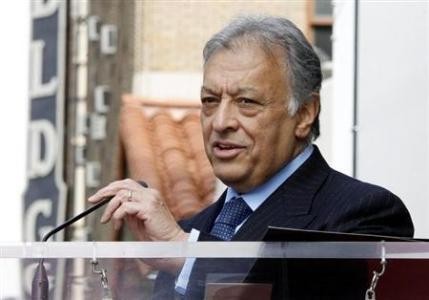 There have been continuous reports of dissent, political jibes and security concerns ever since world class music conductor Zubin Mehta's concert in Srinagar's Shalimar Bagh was announced.
Mehta, an Indian born has been acclaimed for world class performances, and the "Ehsaas-e-Kashmir" peace cencert to be held on Saturday promises Beethoven and Haydn compositions by the Bavarian State orchestra.
The concert has been subjected to criticism mainly by Kashmiri separatists ever since German ambassador to India Michael Steiner proposed it. Zubin's presence and his performance was cited as disgrace, an attempt at human rights violation, unnecessary and many calling 'music' as blasphemous.
Expressing displeasure, Jammu & Kashmir chief minister Omar Obdullah had called the separatists' stance 'hypocritical', pointing out the time when a Pakistani music band was allowed to performance in the state sans any issue.
Despite all oppositions, the musical evening to be held in Srinagar's Shalimar Bagh have been given a thumbs up and security has been beefed up at the venue.
Meanwhile, separatists have threatened to target the concert, called for a ban, and when almost every option proved futile, a parallel concert "Haqeeqat-e-Kashmir" was proposed to counter Mehta's concert. According to the oragnisers, the parallel concert would highlight the plight of the people who have undergone decades of volatile situation unlike the lavish concert.
Indeed Mehta's concert promises some high-end guest list spanning top-notch politicians, businessmen, celebrities and sportsman. However, passes were not available to common men.
"I didn't choose Kashmir, Kashmir chose me," Mehta was quoted as saying while promoting the novelty of his performance. "Music is the message of peace, and music only brings peace."
However, it is difficult to comment on peace in a bullet-torn and restrictive valley, more so as it is an exclusive and posh concert which promises to entertain only the creamy layer.
When asked of the over-hyped performance, locals mostly had no idea about the fiasco around the concert. Life in most part of the city remained normal despite the separatists calling for a ban to protest the event on Saturday.
Lavish hotel bookings for guests and performers had been made for the 90-minute concert which will be telecast live in 104 countries.
And while the locals keep wondering the straining issue between the locals groups and the government, the Tagore Awardee will be seen performing to the tastes of elite in an event which ironically aims at tourism promotion of the sensitive state yet being unavailable to masses.
In an attempt to justify the noble aim of the event, Foreign Minister reportedly requested the young generation to lend ear to the music which he believes could mould issues.
The union minister's request is at best a trivialization of the living conditions of majority with most reeling under threats day in and day out as militants strike uninhibited and sense of parity amiss.
At this juncture, music as consolatory note appears nothing but extravagant, luxurious and a vain attempt under the camouflage of peace initiative.