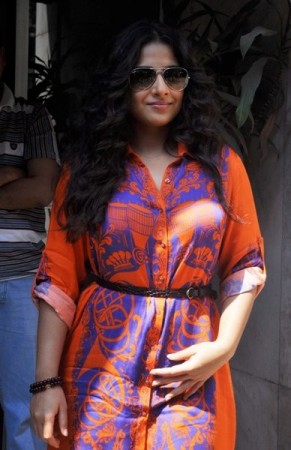 Actress Vidya Balan seems to be facing trouble in her married life due to husband Siddharth Roy Kapur.
Reports have claimed that the talented actress, who wedded Kapur on December 2012, is facing problems in her paradise and is apparently quite upset with Kapur.
The Disney India MD apparently got quite friendly with a newcomer actress in the absence of his wife, Balan. The friendship has not gone down well with the "Kahaani" actress, who is said to be keeping tab on Kapur's activities now. The couple apparently has been quarrelling a lot lately over Kapur's recent antics, reported the Deccan Chronicle.
To add fuel to the fire, the tabloid added that Balan has now cancelled all her overseas plans to stay close to her husband and she has also delayed the promotions of her upcoming film "Bobby Jasoos." The actress's regular visit to her parents' house in Chembur has further escalated the reports of tension in her one and half-year-old marriage.
As it appears, Balan in recent months has hogged the limelight more for her personal life than her film career. While the actress' last two films "Ghanchakkar" and "Shaadi Ke Side Effects" failed to create any buzz, but reports on the actress being pregnant has been ceaseless.
The pregnancy rumours soared when she quit Sujoy Ghosh's previously committed film "Durga Rani Singh" which eventually went to Kangana Ranaut.
However, the 36-year-old in a recent interview squished the pregnancy rumours.
"I'm fed up of these rumours. These days people look at my stomach when they talk to me...I will have a baby-but not so soon. I'm not mentally ready for motherhood yet. It's a daunting task to be responsible for another human being," Balan told The Times of India.
Regarding Balan's marriage woes, it remains to be seen how the actress will handle the situation in the coming days.
It should be noted that Kapur is Balan's third wife. The businessman had previously married his childhood friend and then a producer, whom he divorced in 2011.
(Ed:AJ)