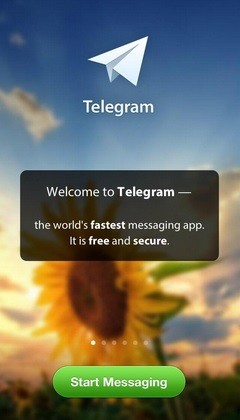 WhatsApp's brief outage last week seems to have benefitted its competitors, who have seen an increase in the number of new users signing up for their services.
Telegram, a messaging service similar to WhatsApp that was launched on 14 August 2013, saw approximately 5 million people signing up in just one day, making it one of the most downloaded apps.
"4.95 million people signed up for Telegram today. Telegram is #1 most downloaded iPhone app in 48 countries. To the bad news...," Telegram said in a tweet on 24 February.
This is a startling number, as Telegram had just about 300,000 daily active users, and company officials said in a tweet that the app's servers struggled with the huge number of new users.
It is also not known why users immediately turned to Telegram, that has embedded the best features of WhatsApp and Snapchat, when they had other options such as Kik or LINE.
But ever since news broke of Facebook buying WhatsApp, users have been wondering what tweaks the social networking company would incorporate in the messaging app. And despite assurances from WhatsApp founder Jan Koum, that nothing is going to change, people seem to be checking out other alternatives.
"We expected 1 million registrations per day maximum; 5 million daily signups seemed crazy. Frankly, we'd rather have a gradual organic growth. Our plan was to be ready for this kind of growth in 2 months, not now," the company noted in subsequent tweets.
So how different is Telegram from WhatsApp, the popular messaging service that Facebook bought for $19 billion?
Telegram, according to its website, is very similar to WhatsApp as it enables people to send messages, videos and photographs. The difference lies in the fact that Telegram is cloud-based, allowing people to access messages from several other devices. The self-destruct option in Secret Chats is another bonus for Telegram.
On how it works, Telegram explains on its website that the sender can set a time limit to the messages he sends, and once the time limit is exceeded, the message disappears, leaving no trace. The timer is applied only after the message is received, indicated by two tick marks.
The Berlin-headquartered Telegram is built by the Durov brothers, who are the brains behind Russia's largest social networking site VKontakte.
Telegram takes pride on its advanced security settings, which the company says cannot be accessed by security agencies trying to pry user information.
A number of Telegram users are still sceptical on if it will go the WhatsApp way.
Responding to a user's question on whether Telegram will sell the app to Facebook if Zuckerberg offers $200 million, Telegram said that it is against sell-outs.
"It is in the DNA: no sellouts, no ads, no investor money," the company tweeted, and noted on its website that Telegram will remain free forever; it will neither have advertisements, nor subscription fee.