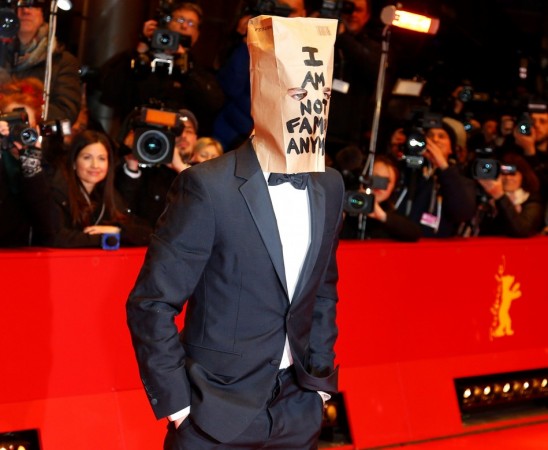 After a number of bizarre incidents that include storming out of a press conference after talking about sardines, and appearing on the red carpet with a paper bag over his head, industry sources believe that actor Shia LaBeouf is finally losing it.
On Sunday, the "Transformers" actor, who was promoting his movie, "Nymphomaniac," in Berlin appeared at a press conference dressed in dirty clothes, and with one tooth missing. When questioned about working in a movie with so many sex scenes, LaBeouf replied: "When the seagulls follow the trawler, it's because they think sardines will be thrown into the sea. Thank you very much."
He then walked out of the press conference, but continued with his weird antics when he appeared with a paper bag over his head on the red carpet of the Berlin Film Festival.
"I Am Not Famous Anymore" was written in large letters on the bag, which had two holes for his eyes.
It is yet not sure if LaBeouf's recent antics are part of his art project or the beginning of a very public meltdown. Early this year, the actor, who was accused of plagiarising the work of another writer, was reportedly looking to stage a performance art piece called #IAMSORRY, where he sits alone in a room with a paper bag on his head.
This art piece was said to be an apology of sorts for plagiariasing the work of another artist, Daily Mail reported..
"Performance art has been a way of appealing directly to a large public, as well as shocking audiences into reassessing their own notions of art and its relation to culture," LaBeouf wrote on his Twitter account, according to Entertainmentwise.com.
"My Twitter "@thecampaignbook" is meta-modernist performance art. A performance redress which is all a public apology really is. All art is either plagarisum [sic] or revolution & to be revolutionary in art today, is to be reactionary. In the midst of being embroiled in acts of intended plagiarism, the world caught me & I reacted."
The tweet has since been deleted.
In recent times, the actor also indicated his intention to move out of public life, and he has been reinstating his desire by tweeting "I Am Not Famous Anymore" on a daily basis.