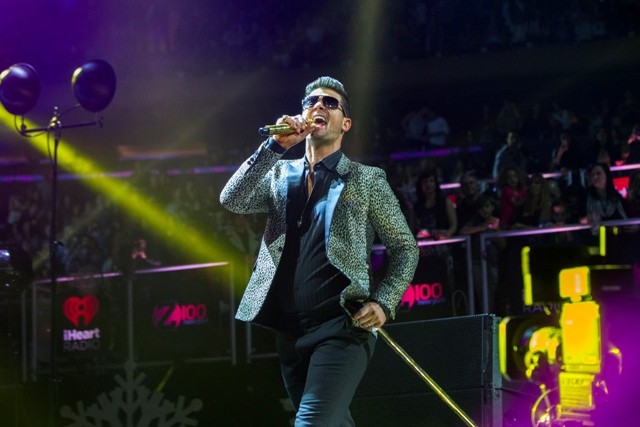 Singer Robin Thicke is once again in the middle of a controversy after photographs emerged of him getting cozy with a female companion while partying in Paris.
In some photographs, the married "Blurred Lines" singer is seen leaning for a lip lock with his companion, while others show the 36-year-old enjoying some heavy dancing.
The identity of the woman is still unknown, but the New York Daily News reported that she stayed close to the Thicke, who seems to have had several drinks.
Thicke, whose hit "Blurred Lines" became a summer anthem last year, is married to his childhood sweetheart, Paula Patton. Thicke started dating Patton when he was 16, and married her in 2005. They seem to have a strong relationship, and Thicke said in a previous interview that his controversial "Blurred Lines" is based on his wife.
"I wrote it [Blurred Lines] about my wife," Thicke told 1Xtra Live. "She's my good girl. And I know she wants it because we've been together for 20 years."
But, last year, a picture of Thicke allegedly groping a fan during MTV VMAs bash started doing the rounds, and he was hit with infidelity allegations.
"His hands were everywhere," the girl in the picture, Lana Scolaro, told the media. "He was grabbing me. He was like, 'I want to get you into bed!'" she said, adding that things did not progress as they were repeatedly interrupted.
Patton stood by her husband through these allegations, and Thicke told the Star during an interview that he is happily married and in love with his wife.
"My only comment about the so-called scandalous photo would be that my wife and I are perfectly in love and very happily married, so, no complaints there," Thicke said.