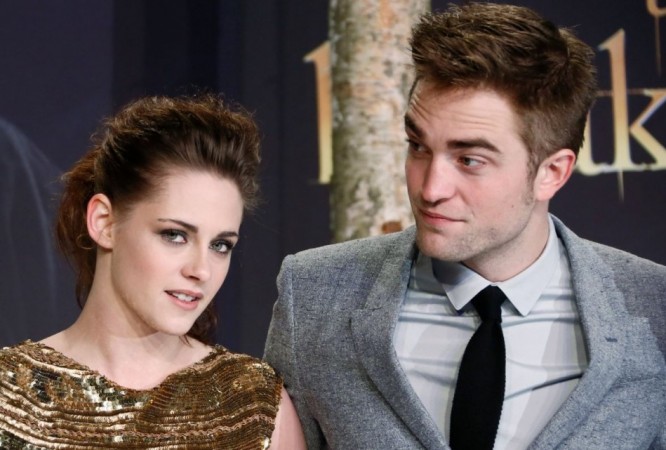 It seems Hollywood's former couple Robert Pattinson and Kristen Stewart are yet to get over each other, despite parting ways a few months ago.
Pattinson is eager to meet Kristen, despite deciding to cut off all ties with her earlier, and would look for any excuse to reconnect with her, including setting up a playdate with their dogs Bear and Bernie, according to Hollywood Life.
It looks like they share lots of good memories together during their years of relationship that they find it difficult to forget each other, though it was reported that Pattinson is dating actor Sean Penn's daughter Dylan.
"Kristen would be absolutely ecstatic if Rob reached out to her, and even more so if it involved Bear and Bernie," a friend of Kristen told Hollywood Life. "She would love to see Rob but doesn't feel comfortable making the first move out of respect for Rob. He's the one who said no communication would be in both of their best interests. Kristen never, ever felt that way."
The source added that Kristen would welcome a reunion with Pattinson, as she still loves him and misses him terribly.
It was reported that the 27-year-old actor has moved on and is in serious relationship with Dylan Penn but it seems he still misses his ex-flame badly.
"Rob is clearly not over Kristen," a friend of Pattinson told Hollywood Life "He for sure wants to see her and will use Bear and Bernie as an excuse to see her. He wants to have a playdate. They used to take long walks in Griffith Park with the dogs when they were together. He wants to do that with her. He will make it seem like the dogs miss Kristen, which I am sure they do, but Rob is the one who really misses her."
Pattinson and Kristen's relationship run into trouble last year, after the latter made a public apology for cheating on him while they were together. They reunited after a couple of months but parted ways after a few months of speculation.
Kristen and director Rupert Sanders had issued separate public apologies after the news of their affair surfaced in July 2012, costing them their respective relationships. Pattinson and Kristen parted ways after their efforts to mend their relationship failed, while Sanders' wife Liberty Ross filed for divorce on grounds of infidelity.