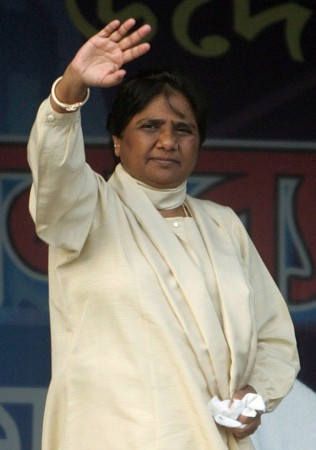 Supporters of Telangana state are celebrating while anti-Telangana people are staging protests against the decision of the Congress-led UPA government to divide Andhra Pradesh into two parts. Now, former Uttar Pradesh Chief Minister and Bahujan Samaj Party (BSP) chief Mayawati has grabbed the opportunity to press the Centre to divide UP into four states.
Mayawati told reporters that BSP favours smaller states and has sent a proposal for division of UP into four states to the central government in 2011, after a bill was duly passed by the state assembly. She added that bifurcation of the state into four parts would ensure better governance and administration.
"It is unfortunate that the central government kept it pending since then, but with Telangana becoming a reality, BSP demands that on the principle of one language-one state, the Centre, besides reorganising larger states, should also complete the process of division of Uttar Pradesh into four states, besides (formation of) Gorkhakland and Vidarbha," Press Trust of India quoted Mayawati as saying.
Mayawati had proposed to devide UP into four states - Purvanchal, Bundelkhand, Awadh Pradesh and Pashchimanchal. There are also demands for Gorkhaland in West Bengal and Vidarbha in Maharashtra.
The demand to split UP was revived after the UPA and the Congress Working Committee (CWC) unanimously endorsed Telangana statehood in separate meetings on Tuesday, thus paving the way for the formation of a separate Telangana state in Andhra Pradesh.
Meanwhile, All India Congress Committee (AICC) General Secretary in charge of Andhra Pradesh, Digvijaya Singh, had hinted during the announcement of the party on Telangana that it won't be easy for the creation of more states in the country.
"The formation of Telangana cannot be compared to (similar) demand from (other) states. Telangana will have 10 districts. In Hyderabad, there is adequate arrangement for both states to run their affairs for next 10 years," Digvijaya Singh told reporters on Tuesday.