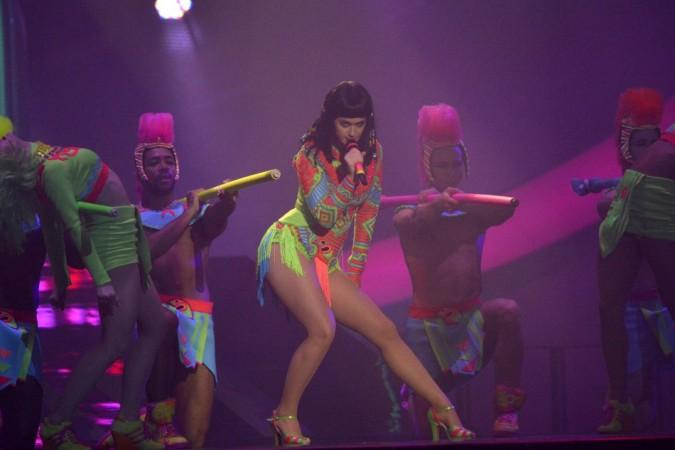 A petition to remove Katy Perry's "Dark Horse" video from YouTube is gathering steam after Muslims worldwide found it blasphemous.
The video shows Perry as an Egyptian princess trying to choose a partner. What has offended the religious sentiments of a section of people is a scene, where a man wearing a pendent with the word "Allah" is burned.
"At 01:15 into the video "Dark Horse", a man is shown being burned, whilst wearing a pendant (also burned) forming the word 'Allah', which is the arabic word for God," the petition on Change.org stated.
"Such goes to show, that blasphemy is clearly conveyed in the video, since Katy Perry (who appears to be representing an opposition of God) engulfs the believer and the word God in flames," Change.org added.
Perry, who released the video on 20 February through her Twitter account, is yet to comment on the petition seeking the ban.
The petition has since garnered 51,144 supporters, and YouTube might be compelled to take an action once 100,000 signatures are in place.
Over the years, a number of musicians have received flak for explicit or offensive content in their music videos.
David Bowie's The Next Day:
When David Bowie's "The Next Day" made its YouTube debut, it attracted a lot of negative press as it contained a lot of explicit images. Many found the video to be insensitive to religious beliefs as one shot showed Bowie dressed similar to Jesus Christ.
Although the video was initially banned from YouTube, it soon reappeared with a warning that the video contained explicit content.
Justin Timberlake's Tunnel Vision:
Similar is the case with Justin Timberlake's "Tunnel Vision" video that features a number of nude women. Although the video was expected to be banned as YouTube has a policy against nudity in videos, the video has been allowed on the site with a explicit warning to viewers.
Robin Thicke's Blurred Lines:
Last year, Robin Thicke's "Blurred Lines" uncut video featuring nude models was banned from YouTube. The video showed naked model strutting around and it garnered more than 1.3 million views within a few days of its debut on Vevo.
At the time, Thicke had said that he got permission from his wife Paula Patton to use nude models in the video, which also had a helium balloons with the wording "Robin Thicke has a big d**k"
Eminem's Just Lose It:
The first video cut of Eminem's "Just Lose it" was banned from the video sharing website as it depicted a Michael Jackson look-alike in bed with children. The footage was in reference to child molestation charges that had been plaguing Jackson for a long time.
Madonna's What It Feels Like for a Girl:
The video, released in 2001, was directed by Madonna's then husband Guy Richie, and it was considered to be overly graphic and violent when it was released. The footage showed Madonna in a blond wig going about on a reckless killing spree, and its depiction of abuse and violence was highly criticized.