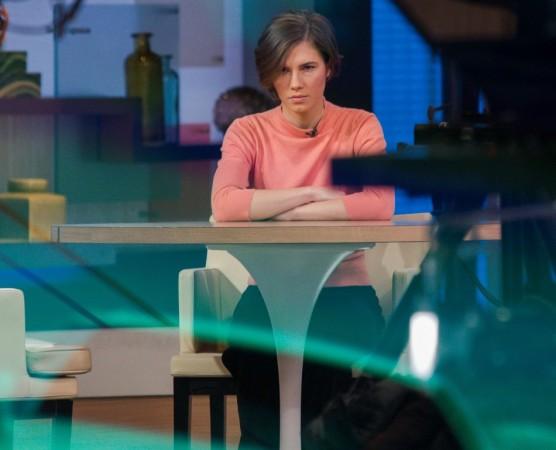 Amanda Knox appeared tearful and innocent while appearing on a US television show, just days after she was found guilty of murdering her flatmate Meredith Kercher, in 2007.
On ABC's Good Morning America on Thursday, Knox maintained that she was innocent, and shed a few tears to reinforce the point. But a former prison guard in Italy's Capanne prison, Perugia, where Knox spent four years, told Daily Mirror that Knox's emotional approach is out of character and insisted that it was just a farce.
"Now she's become this TV star, who cares passionately about what happened to her friend Meredith Kercher, and wants the truth to come out," Angela Antonietti, 65, told UK's Daily Mirror.
"She's painting herself as a warm, loving human being, but the Amanda I knew was so composed, I never saw her suffering and other prisoners and staff called her the Ice Maiden. She never, ever talked of Meredith or expressed emotion about her death. Whenever Meredith's face came on TV she didn't want to know and didn't respond. She was impenetrable."
Shedding more light into Knox's prison life, the guard told the publication that Knox slept like a baby, and was always singing and dancing around in her cell. Knox did not interact with the other prisoners and spent her days inside the cell reading, Antonietti said, adding that she was always trying to portray herself as an ideal prisoner.
"Her behaviour behind bars was so extraordinary…but we all knew there was another side to her she didn't want us to see. She's magnetic and manipulative. She had no emotions for people, only books. She never talked to other prisoners, she was only concerned about her world," Antonietti said.
In the meantime, Knox has vowed to fight extradition, if Italy lodges a formal extradition request with the US government.
"I am going to fight this to the very end," Knox said on the show.