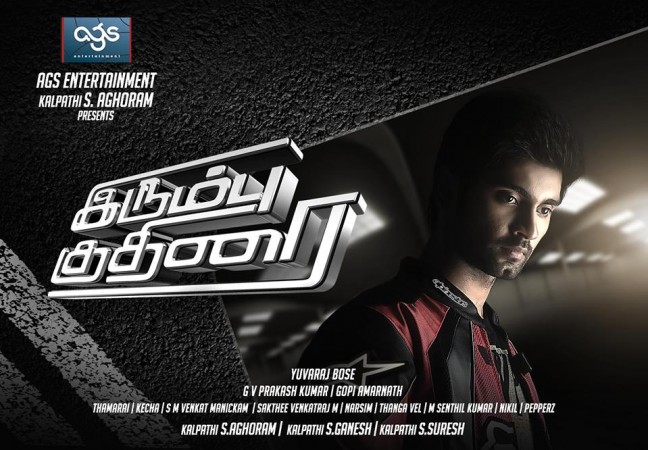 Atharvaa-Priya Anand's "Irumbu Kuthirai" has received negative reviews from critics.
Directed by Yuvaraj Bose, "Irumbu Kuthirai" has Raai Laxmi, Johnny Tri Nguyen of "7 Aum Arivu fame," Jagan, Manobala and Devadarshini in supporting roles.
Plot: Prithvi (Atharvaa) works as a part-time pizza delivery boy. He falls in love with Samyuktha (Priya Anand). Prithvi, who avoids driving bikes fast after an accident, starts riding superbikes for Samyuktha. One day, when they are on the East Coast Road, a group of bikers kidnap Samyuktha. What happens next forms the crux of the story.
Critics have stated that "Irumbu Kuthirai" has a poor screenplay and the film moves at a sluggish pace until the final 15 minutes when it turns out to be interesting. Regarding the performances, critics mentioned that Atharvaa has given a decent performance, while Nguyen as the villain looks menacing. Priya Anand and Raai Laxmi look pretty, whereas Devadarshini and Jegan do their parts well in their limited screen time.
Check below the review roundup of "Irumbu Kuthirai":
"With a promising premise and a sound technical team, director Yuvaraj Bose has thrown away a good opportunity. The makers should understand that couple of item numbers will not make up for a poor screenplay that lacks any connection with the audience," said Sai Shyam G of iflickz.
"There are some barely engaging scenes for 15 minutes, followed by a song. Repeat this sequence for five times, and you will get Irumbu Kuthirai. Also, the back story of Johnny looks very far-fetched and unimaginable," he said.
Performances of the cast: "Atharvaa looks handsome, his physique and intensity are admirable. But the movie lets him down, one must say. Devadarshini being cast as Atharvaa's mother is an interesting choice and she performs with her typical spirit. The crowd welcomes Johnny with a huge cheer and we get to see him for the most part as a mean baddie, who flexes his muscles," according to Behindwoods Review Board.
"Priya Anand sports some really lovely costumes and is at her cute best as the quintessential romantic interest. The lead pair looks good together, though their romance segments have nothing new to offer. Raai Laxmi and Jagan as Atharvaa's friends provide the eye-candy and comedy quotients, respectively. The dubbing voice for Raai doesn't suit her personality," the website stated.
Technical Aspects – "Cinematography by RB Gurudhev is stunning with a Hollywood-ish colour tone and bright visuals. Gopi Amarnath has been roped in for the action sequences and he too has done complete justice to bring out the best with the camera in hand," said Siddarth Srinivas of Cinemalead.
"Credits to the editor for trimming down the film to a crispy two hours, with interesting transitions and flash cuts. These are the saving graces of this iron horse, kudos guys!," he said.
"Firstly a good round of applause for Yuvaraj for choosing a concept that trots around bikes, something never explored. And that's about it, the movie should have ideally pulled bike lovers into the screens for the trailers screamed with zest and style, however the director misses to deliver the best out of the ingredients," according to Indiaglitz.
Verdict: Fails to Engage