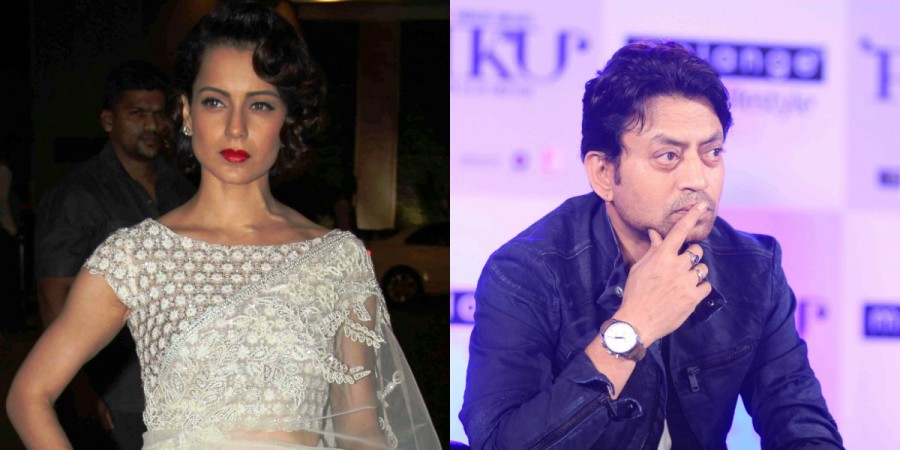 After Kangana Ranaut opted out of the upcoming movie "Divine Love," which features Irrfan Khan, the actor said the "Queen" actress has gone beyond reach. Irrfan also candidly said he was ready to work with Kangana in any movie in which she plays the hero and he plays the heroine.
During the trailer launch of "Madaari," Irrfan was asked about Kangana opting out from Sai Kabir's upcoming project "Divine Love." The versatile actor showed his usual candid nature and said: "I think even I don't know whether I will be able to do 'Divine Love' because it is very far and it keeps coming and going. And Kangana is now so out of reach that if I have the wish to work with her as a heroine, then I will surely work with her. If she becomes the hero and I become the heroine, then I will certainly do it. So one has to bring up a script in which she is the hero and I am the heroine."
Earlier, there were reports that Kangana had been replaced by Zareen Khan as the film's female lead after the former had walked out of the project. Kangana had worked with Sai Kabir in the movie "Revolver Rani," which had bombed at the box office.
Announcing her ouster, the director had told Deccan Chronicle: "Kangana Ranaut is no more a part of my film 'Divine Lovers.' I am launching a new girl opposite the leading man Irrfan Khan. It's going to be a surprise for everyone. The new girl is more suitable for the role. I can't say anything else."