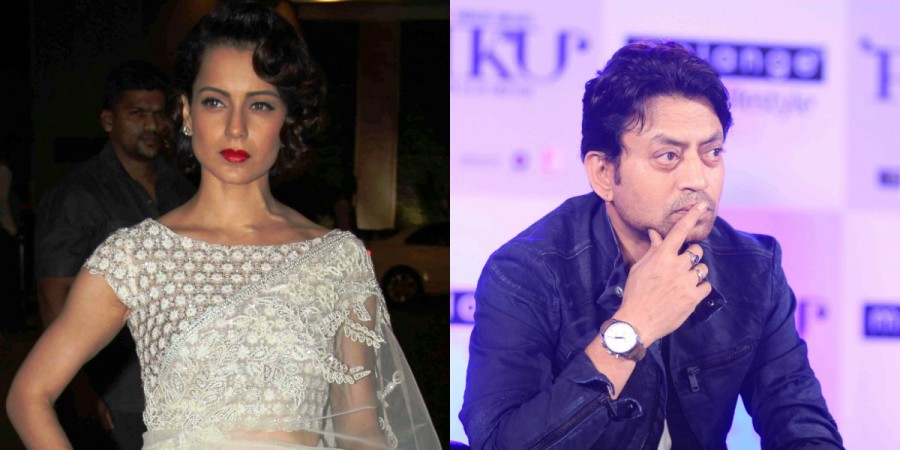 Kangana Ranaut and Irrfan Khan's relations have reportedly suffered a setback as the latter is apparently miffed with the actress for walking out of the movie, "Divine Lovers."
Kangana and Irrfan were supposed to work together in Sai Kabir's upcoming directorial venture "Divine Lovers" but it's being said that the actress opted out of the film because she felt Irrfan has the lead role in the movie. Irrfan is now angry with the "Rangoon" actress for taking the decision.
"Irrfan was happy to be paired with Kangana in Sai Kabir's next film. But when Kangana opted out, Irrfan took the snub personally. He feels Kangana opted out because she felt he had the better role," Deccan Chronicle quoted a source as saying.
Apart from "Divine Lovers," Kangana and Irrfan were apparently supposed to share screen space in a biopic on Begum Akhtar but that too did not take off. The biopic was supposed to be directed by Ketan Mehta.
"Maybe it wasn't Kangana's intention to snub Irrfan. Ketan's film on Begum Akhtar just didn't materialise. As for 'Divine Lovers,' Kangana turned it down purely for creative reasons. After the fiasco of 'Revolver Rani,' she didn't want to work with the same director (Sai Kabir)," the source added.
When Irrfan was earlier asked about Kangana's decision of not taking up "Divine Lovers," the versatile actor had candidly said, "I think even I don't know whether I will be able to do 'Divine Lovers' because it is very far and it keeps coming and going. And Kangana is now so out of reach that if I have to work with her as a heroine, then I will surely work with her. If she becomes the hero and I become the heroine, then I will certainly do it. So one has to bring up a script in which she is the hero and I am the heroine."
However, when asked to comment on Irrfan's remark, Kangana had said that the actor keeps teasing her but she is very eager to work with him. "He always teases me. He had once told me two swords could never stay in the same sheath. I couldn't understand it. But I would like to work with Irrfan sir regardless of whatever role is offered to me," Kangana had told the Indian Express.