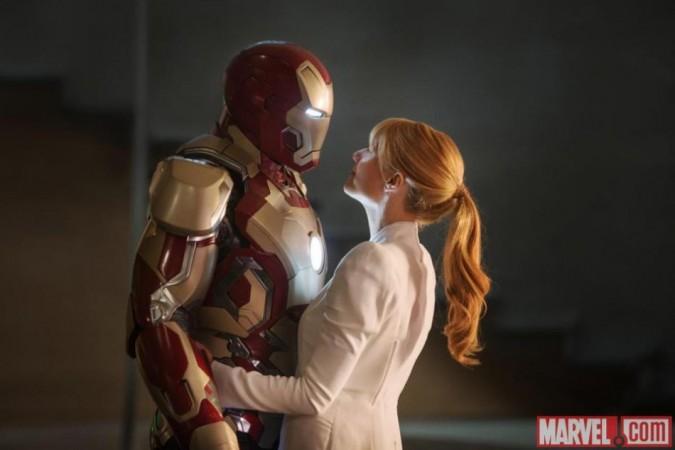 "Iron Man 3", the third installment of the superhero series, returns with Robert Downey Jr. continuing the 'playboy, genius, philathrophist' tag in a darker yet humourous treatment.
The superhero flick released in the Asian and European markets on 26 April has already scored high with most critics giving it a thumbs up.
With Shane Black at the director's helm the film continues Tony Stark's (Robrert Downey Jr.) fight against the villains in his suited technology along with his army candy Pepper Potts (Gwyneth Paltrow).
The film carries on after "The Avengers" and shows Stark in a stressful state with the villain Mandarin (Ben Kingsley) lurking around causing mayhem with a string of bombs.
"Iron Man 3" has already scored 92 percent fresh ratings on Rotten Tomatoes. Going by the critics' ratings the third superhero film in the series is predicted to win over the collections as well with Stark's oh-so-classy demeanour, effortless vfx and vivid humourous dialogues.
A look at some of the reviews:
Chris Tookey, Daily Mail
Rating: Four Stars
"Comic-strip superhero movies are not exactly noted for intelligence, wit or humour. Iron Man 3 is the welcome exception.
"The big asset of the series has always been Robert Downey Jr as the billionaire playboy, talkaholic and unrepentant sex addict Tony Stark. He is a nerd's bedsit fantasy, a brilliant scientist and inventor who's impossibly wealthy and irresistible to women.
"Iron Man 3 is a lot more fun and imaginative than its two predecessors, and at least comparable with The Avengers Assemble, which I liked and was a huge hit."
Todd McCarthy, The Hollywood Reporter
"After nearly crashing and burning on his last solo flight in 2010, Iron Man returns refreshed and ready for action in this spirited third installment of the thus-far $1.2 billion-grossing Marvel franchise. In a way a double-sequel, both to Iron Man 2 and to last year's mega-hit The Avengers, Iron Man 3 benefits immeasurably from the irreverent quicksilver humor of co-writer and director Shane Black, whose obvious rapport with Robert Downey Jr. in his only other directorial outing, Kiss Kiss Bang Bang, is further manifest here.
"Looking, if anything, younger than he did in his last couple of spins for Marvel, Downey is at his superhero genius best here, rattling off dialogue both clever and boilerplate with non-repetitive aplomb. Clearly, part of the thinking behind this installment was to have Tony spend much of his time out of his Iron Man suit and force him to generate creative, rather than just physical, ways to solve problems, and this gives the actor more opportunities than he had in the second go-round. Hall's offbeat presence in what is her first big-budget franchise outing is greatly welcome, Pearce brings an arresting presence to his role as an egghead villain, and a fabulously accoutered and adorned Kingsley has a field day as the elusive Mandarin.
"Cinematographer John Toll and production designer Bill Brzeski add class to the generic proceedings, Brian Tyler's ultra-energetic score doesn't grate the way soundtracks for such films often do and the special and visual effects are tops when they count."
Peter Bradshaw, The Guardian
Rating: Four Stars
"To use a recondite term in professional film criticism: whoo-hoo! Iron Man 3 is descending on cinemas with an almighty crash, assuming the dramatic-yet-camp landing pose that Tony Stark in his exo-body-chassis favours on arrival: right knee down, right fist in the smashed asphalt, left elbow back, head up.
"Robert Downey Jr is back, smashing walls and cracking wise as the billionaire industrialist Tony Stark, now out of the closet as Iron Man, living the dream in his future-tech clifftop pad and co-habiting with the beautiful Pepper Potts - Gwyneth Paltrow's excellent, relaxed performance making me wish she spent more time on film sets and less with her nutritional website.
"Iron Man 3 is smart, funny and spectacular - I particularly liked Stark's brutally unsentimental reaction to the news that a kid who is helping him is missing his errant dad."
Tom Huddleston, Time Out
Rating: Three Stars
"We find Tony Stark (Downey Jr) languishing in the doldrums, scarred by his experiences with the alien-battling Avengers and throwing himself into work at the expense of relationships and sleep. What's worse, there's a terrorist on the loose: mystery man the Mandarin (Kingsley), bent on global annihilation. After an ill-advised public throwdown followed by a helicopter attack on his plush seafront palace, Tony heads for Tennessee on the trail of a seemingly suicidal ex-soldier, and quickly learns that nothing here is at it seems...
"Despite his unimpeachable screenwriting CV, this is only Black's second film as a director (his first, 2005's gloriously foul-mouthed crime thriller 'Kiss Kiss Bang Bang', also starred Downey Jr) and it shows.
"It's undeniably entertaining - and worth seeing for Kingsley alone - with the misfires never fully overshadowing the moments of glory. But in the wake of the triumph of 'The Avengers', 'Iron Man 3' still feels like something of a disappointment."
Scott Foundas, Variety
"The third time is neither a particular charm nor the kiss of death for Marvel Studios' robust "Iron Man" series, which has changed studios (from Paramount to Disney) and directors (Shane Black subbing for Jon Favreau) but otherwise toyed little with the formula that has so far generated more than $1.2 billion in global ticket sales. The inevitable franchise fatigue - plus a markedly unmemorable villain - may account for the feeling that "Iron Man 3" is more perfunctory and workmanlike than its two predecessors, but this solid production still delivers more than enough of what fans expect to earn its weight in box office metal."
Geoffrey Macnab, The Independent
Rating: Three Stars
"Iron Man 3 shows up both the glories and the extreme limitations of the superhero summer blockbuster genre. Director Shane Black and his British co-writer Drew Pearce work tremendously hard to bring humour, irony and complexity to their screenplay, even if they are defeated by the sheer superficiality of their source material.
"Robert Downey Jr is as appealing as ever as Tony Stark, the playboy/engineering genius, saving the world in his iron suit. The film serves up plenty of spectacle - explosions, chases and brilliantly choreographed feats of acrobatics in which Downey leaps hither and thither like an iron-clad Douglas Fairbanks. As in The Dark Knight Rises, in which Tom Hardy's Bane terrified America, there is again a very menacing villain (Ben Kingsley's The Mandarin), who seems like a mix of Nosferatu, Fu Manchu and Osama bin Laden.
"The problem is that the storyline is still B-movie stuff. The final-reel stand-off between the hero and his antagonist could have been borrowed from any Buster Crabbe sci-fi film serial of the 1930s. There is a sense that the film-makers don't know how seriously to take their own movie."