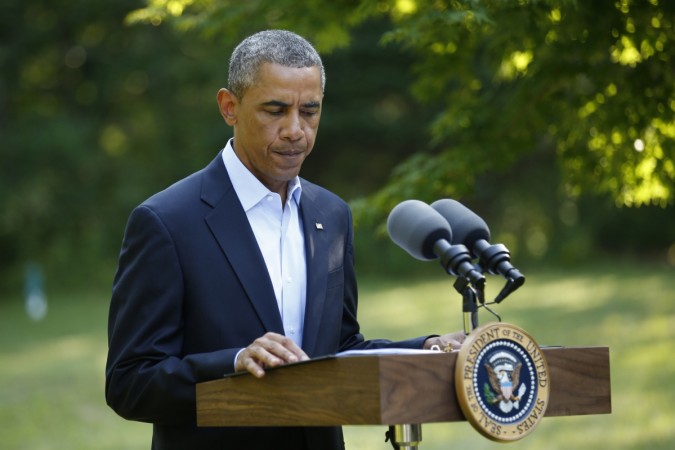 US president Barack Obama has lauded Iraqi President's decision to nominate Haider al-Abadi as the country's prime minister-designate and even called it a "promising step forward."
This comes at a time when the political crisis has deepened in the country with the Prime Minister Nouri al-Maliki resisting calls to step down and accusing the new president of violating Iraqi law. Security forces loyal to the embattled leader appeared in huge numbers in the capital city of Baghdad, after Maliki criticised the President on state TV.
Maliki is seeking a third term, but has been increasingly facing criticisms and calls to step down as he has been implicated in stoking the current crisis in the country as the jihadist insurgency group ISIS have lead a bloody campaign over the last few months capturing major swath of the country's north and west.
But on Monday, Iraq's president asked Abadi to form a new government, snubbing the incumbent PM Maliki whose view that the President's action was a "violation of the constitution" fell on deaf ears as the US President was quick to offer his congratulations on the decision. Saying that Iraq had been through "difficult days" Obama urged its political leaders to work together.
In a nationally televised speech on Sunday evening, Maliki had said that he would file a legal complaint against the new President for missing a deadline to ask the biggest political bloc to nominate a prime minister.
The decision made by the President on Monday essentially ends Maliki's eight-year rule but the veteran leader refused to go after deploying militias and special forces on the streets – an event that creates a dangerous political showdown in Baghdad.
In a televised speech, Maliki said that the President's decision to name a replacement for him was a "dangerous violation" of the constitution and vowed to "fix the mistake."
However, as the appointment of a new PM continues to be lauded by west, there seems to be little Maliki could do to come back to power. Obama said he spoke with Abadi to congratulate him and to urge him to quickly form a new cabinet that is broadly representative of Iraq's different ethnic and religious communities, Reuters reported.
UN Secretary-General Ban Ki-moon also praised the naming of Abadi and urged him to seek a comprehensive government that includes all components of Iraqi society, the United Nations said.