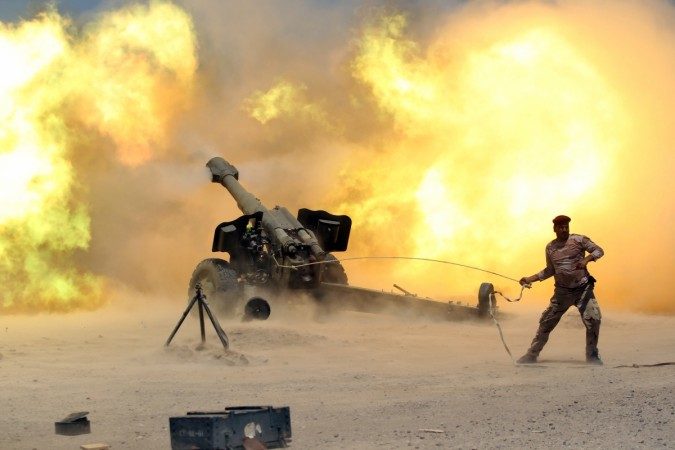 The Iraqi Army entered Fallujah, near Baghdad, early on Monday morning and began an assault against the militants of the Islamic State group, also known as ISIS. Gunfire and explosions were reportedly heard from Naimiya district in south Fallujah as ISIS responded to the offensive with suicide and car bomb attacks.
The Army units with the help of Iran-backed Shia militia entered the city, which was captured by ISIS in January 2014, from three directions, the Guardian reported, quoting spokesperson for Iraq's counter-terrorism agency. The Iraqi Army launched the offensive with the backing of international air raids.
"Iraqi forces entered Falluja under air cover from the international coalition, the Iraqi air force and army aviation and supported by artillery and tanks. Counter-terrorism service forces, the Anbar police and the Iraqi army, at around 4 am (0100 GMT), started moving into Falluja from three directions," Lieutenant General Abdelwahab al-Saadi, the commander in charge of the operation, said on Monday.
"There is resistance from Daesh," he said. Daesh is an Arabic acronym for ISIS.
As many as 50,000 civilians are still trapped in the city, BBC reported, adding that the United Nations has cited reports stating ISIS militants have killed several people who declined to fight for the outfit, while many others are starving to death.
The Iraqi troops have, however, been able to reach the outside of city limits, BBC quoted its journalist Jim Muir as saying from Baghdad. The Islamic State group has about 2,000 fighters and several supporters in the city. The Militia leaders said the assault will be put on hold before advancing towards the centre of Fallujah, allowing civilians to flee.
ISIS has been targeting several regions in Iraq, and the latest of all the attacks was reported in and around Baghdad on Monday. At least 24 people, including eight civilians and three soldiers, were killed in multiple bombings claimed by ISIS, the Associated Press reported.
A wave of bombings claimed by the Islamic State group targeted commercial areas in and around Baghdad on Monday, killing at least 24 people in attacks that came as Iraqi troops were poised to recapture Fallujah, a city held by the extremists group west of Iraq's capital.