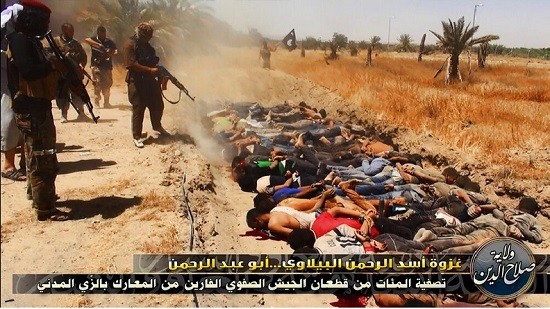 For the scores of Yazidis returning to their villages in Northern Iraq, which has now been freed from ISIS militants, the most important concern is finding their missing relatives who, it is believed, could be buried among the hundreds killed by the Islamic State militants.
It is estimated that at least 530 Yazidis are missing from the Hardan village, which was recently liberated by the Iraqi Kurdish forces. One such returnee Haider Khalef distinctly remembers the chilling instructions given by his relatives: "If you don't hear from us, you'll find our bodies near the checkpoint," said Khalef, recalling a telephone conversation.
Khalef had fled the tiny village four months back, but several of his relatives had stayed behind. Earlier last week after the Kurdish forces took over the area, he decided to return to the area in search of his relatives.
For many like Khalef, the search for their "missing" relatives starts from the yet-to-be excavated mounds, which bear clear indications of having been dug in recent days. The few residents of the village,who have returned in search of their loved ones, believe that the mounds are mass graves.
Fearing "booby traps," the soldiers wanted to wait for more equipment and finally on 22 December, the Kurds carried out "light digging" on loose grounds. The intial search showed signs that there could be several more bodies buried under. It is believed that the ground was dug using earthmovers and hence digging up would be daunting task.
As witnessed by the Associated Press reporter, the Kurdish fighters initially pulled out pieces of clothing. At one point, they tugged on the elastic waistband of pants visible in the dirt — and it seemed a body was still wearing them. While the group was unable to pull out the body over fears of a booby trap, near the body the soldiers found the ID of a 44-year-old man named Khero Khudeda Rufo. Rufo was recognised by another returning resident, Khaled Wase, as a neighbor who was among the missing.
"They are all from my village and some of my cousins were arrested (by ISIS) and may be here," said Wase, referring to the earth mounds. "My relatives are there along with all those from my village."
Wase and Khalef estimate that some 530 people are missing from Hardan and they believe that most of them have been killed by the militants.
Hardan is just one of the many small villages dotting the plains of northern Iraq, populated by the Yazidi religious community. Back in August when the Islamic State militants swept through the area, its fighters unleashed some of the most brutal atrocities against the Yazidis — whom they consider heretics.
Thousands of Yazidis have been killed, while hundreds of Yazidi women and girls are being sold as sex slaves.