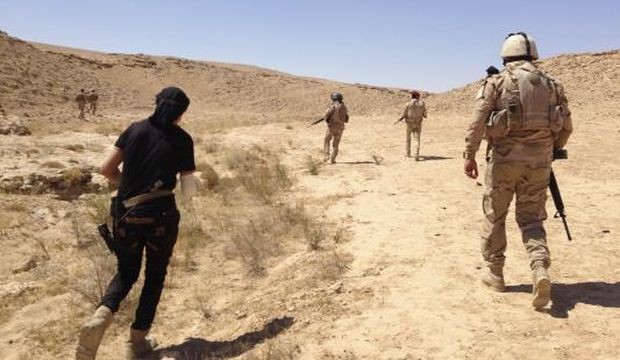 Following reports of Islamic State militants using chlorine gas to attack Iraqi security officials in Duluiyah, the United States has ordered a probe into the matter.
The National Security Council is reportedly in touch with Iraqi officials to gather more information into the chemical attack.
According to a Washington Post report, on 15 September at 4:20 pm, 11 Iraqi police officers were rushed into the hospital emergency room in Balad. "Some struggled to stand; tears streamed from their eyes," the report noted.
The attack took place at Duluiyah where the security personnel, members of the Sunni Jabbour tribe, were guarding a line in the north of the city.
After an exchange of fire, according to a survivor's account, the security personnel there were surprised to see ISIS fighters withdrawing from their position. And soon after that an explosion took place.
"It was a strange explosion. We saw a yellow smoke in the sky," Lt. Khairalla al-Jabbouri, 31, said. The wind carried the fog toward their lines. "I felt suffocated," al-Jabbouri said. "I was throwing up and couldn't breathe."
In an official statement, the Iraqi defence ministry also confirmed that ISIS had used chlorine gas against its forces. The statement, however, undermined the attack and said the ISIS used chlorine in a "primitive and ineffective way".
Back in June, after ISIS captured Al Muthanna facility -- where former Iraq former leader Saddam Hussein stored his chemical weapons -- it was feared that the Islamic State militants may carry out chemical attacks.
The use of crude bombs made using Chlorine only proves the extend the terror outfit is ready to go. "We continue to take all allegations of chemical weapon use — and in particular these recent allegations regarding the use of chlorine as a chemical weapon — very seriously," spokesman for the National Security Council, Alistair Baskey told The New York Times.
"We are aware of the reports but cannot confirm details and are seeking additional information. The use of chlorine as a chemical weapon is an abhorrent act. These recent allegations underscore the importance of our work to eliminate chemical weapons in this volatile region," Baskey added.
The reports of ISIS' chlorine attack in Iraq comes at time when reports claimed earlier last week that the Islamic State militants used mustard gas on Kurdish fighters in Kobane.
The Middle-East Review of International Affairs (MERIA Journal) even released a trove of photographs as 'proof' of ISIS using chemical weapons.