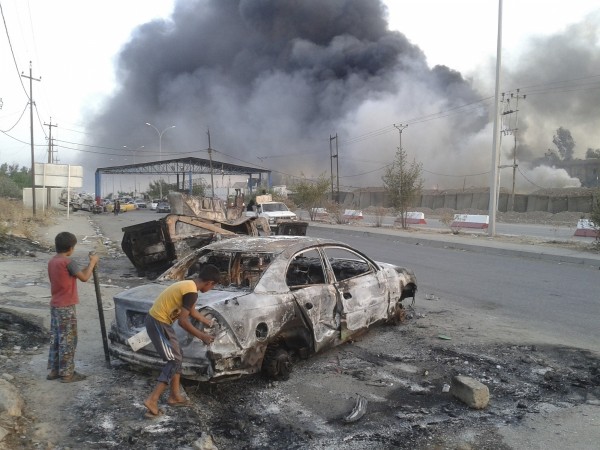 The Iraq government has formally requested the US to launch air attacks on Sunni militants of ISIL (Islamic State in Iraq and the Levant), who took control of 75 percent of Baiji refinery on Wednesday, 18 June. The refinery is 210 km (130 miles) north of Baghdad, Iraq's capital city.
The militant group seized several cities, on its way to Baghdad, in the last one week.
However, the Iraq Army spokesman Qasim Ata claimed that security forces have thwarted attempts of ISIL to attack Baiji refinery and killed 40 terrorists. Baiji is Iraq's biggest oil refinery.
The US confirmed Iraq's formal request for air strikes on the surging militant group. In the presence of US senators, US military commander Gen Martin Dempsey said: "We have a request from the Iraqi government for air power," reported BBC.
Meanwhile Iraq Prime Minister Nouri Maliki urged the country's citizens to stay united against the insurgency.
The militants and Sunni allies overran the second city, Mosul, last week and now are encroaching Diyala and Salahuddin provinces, though the Iraq government forces have been battling to push them back.
On Wednesday, US President Barack Obama reviewed the situation in Iraq and the efforts to strengthen the capacity of Iraqi forces to confront the onslaught of ISIL. Increasing US assistance to Iraq forces to take on the militants is one option, besides air strikes.
The US President also discussed the matter with senior Congress members. It is in America's national interest to counter ISIL, wherever it appears, Gen Dempsey told the Senate panel of the US.
At Baiji refinery, the attack by militants is said to have started at 04:00 am (01:00 GMT) from two of its three main entrances. While Iraqi security forces say that they have controlled the attack on the refinery, Reuters reported that the attackers had taken control of over 75 per cent of the refinery.
Though local Iraqi staff remained in the refinery, British nationals and some other foreigners were evacuated earlier. Media reports say that hundreds of persons have been killed by the militants and many of them, were the captured Iraqi soldiers. The militants reportedly shot them publicly.
It is estimated that there are about 10,000 ISIL fighters in Iraq and Syria including Sunni militant groups, Saddam-era officers and soldiers, and Sunni tribal fighters.
The militant group is led by its battlefield commander Abu Bakr al-Baghdadi and Sunni Arab Community, whose members have joined ISIL and have accused Prime Minister Maliki of monopolizing power.