Iraq has hanged 38 Sunni Muslim jihadists after they were convicted on terrorism charges. The justice ministry said that all the accused were either members of the ISIS or Al-Qaeda.
Second largest mass execution
The militants were hanged in a prison in the southern Iraqi city, the Justice Minister was quoted as saying by Reuters.
"The prison administration executed on Thursday in the presence of Justice Minister Haidar al-Zameli, in Nasiriyah prison, 38 death row prisoners belonging to Al-Qaeda or Daesh (IS) accused of terrorist activities," said Dakhel Kazem, a senior official in the provincial council, was quoted as saying by AFP.
A source also informed the news agency that 37 of the executed militants were Iraqi nationals and one was from Sweden.
Earlier executions
It was the second largest mass execution since September 25 when 42 militants convicted on terrorism charges ranging from killing members of security forces to detonating car bombs were hanged.
Earlier in August, Iraq had also sentenced 27 terror suspects to death for participating in the Camp Speicher massacre in 2014 that killed at least 1,700 Iraqi Air Force cadets in the ISIS-controlled territory.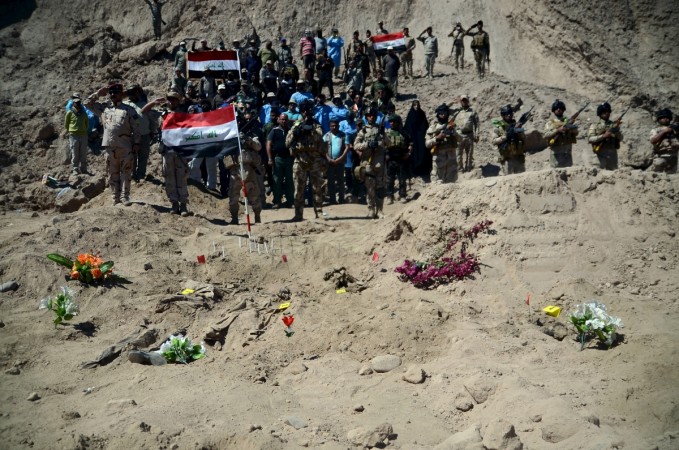 Mass hanging condemned
However, the recent execution has not gone down well with the Amnesty International and they have yet again condemned the practice of capital sentence.
"The victims of IS deserve justice, not mass executions carried out after deeply flawed and hasty trials," Lynn Maalouf, Amnesty's Middle East director, was quoted as saying by BBC.
The Iraqi Army, backed by US Forces, has wiped out ISIS from Mosul. The Iraqi government had also declared their victory in July over ISIS militants' stronghold in western Mosul.
In yet another major victory, Iraqi Prime Minister Haider al-Abadi on Saturday declared victory against ISIS following a vigorous fight against the extremist outfit.