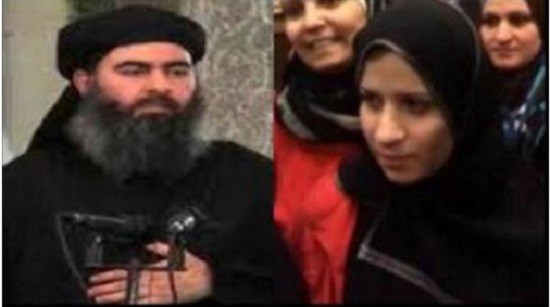 Earlier reports claiming that Lebanese officials had captured the wife and child of ISIS leader Abu Bakr al-Baghdadi, have now been denied by Iraq.
An Iraqi official told the Associated Press that the woman detained in Lebanon was not the wife of Abu Bakr al-Baghdadi, the leader of the Islamic State group.
Iraqi Interior Ministry spokesman Saad Maan Ibrahim has clarified that the woman identified as Saja Abdul Hamid al Dulaimi, is an Iraqi national who travelled to Syria before arriving in Lebanon and not the wife of Abu Bakr al-Baghdadi. The report noted that al-Baghdadi has two wives but neither is named Saja al Dulaimi.
The Iraqi official said that she is the sister of Omar Abdul Hamid al-Dulaimi, who is held in Iraq as a terror suspect.
The Lebanese Army officials claimed on Tuesday that they had detained the wife and son of Islamic State leader and self-proclaimed Caliph Abu Bakr al- Baghdadi.
She is being interrogated at the Lebanese Defense Ministry, according to Lebanese media As-Safir reports Reuters.
This is not the first time that the name Saja Abdul Hamid al-Dulaimi has appeared in the media. In July reports had claimed that Saja Abdul Hamid al Dulaimi was part of an exchange deal in which ISIS released captured nuns. It was found that al Dulaimi, along with her children and younger brother, was released by the Syrian government as part of the exchange.
Reports of al-Baghdadi's family being released in exchange for the nuns were first leaked by Abu Maan al-Suri, a member of the ISIS rival-front Nusra, to Lebanese TV channel LBCI News.