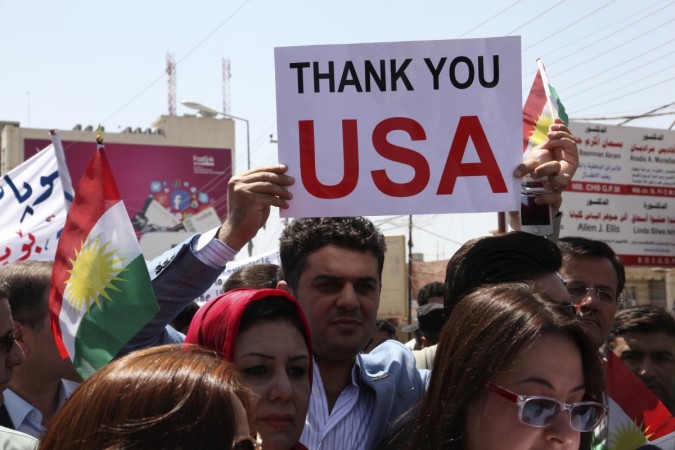 As the political crisis deepened in the country with PM Nouri al-Maliki, snubbed by Iraq's President, refusing to step down on Monday, the fight with the Jihadists has intensified in the north with the US now reportedly starting to directly supply arms to Kurdish Peshmerga fighters to help them battle the Islamic State militants.
The action could trigger debate on the changing policies of the United States as the Obama administration had previously insisted on selling arms only to the Iraqi government and had said they wound not arm any group directly.
There is however no clarity on what kinds of weapons were supplied to the Kurdish region in the north, which has been threatened by the militants over the days. Officials were cited by newspapers as saying that it was not the Pentagon but the CIA, who were involved in the clandestine arming of not only the Kurds but many foreign fighters in various conflicts.
This comes as US warplanes carried out new strikes on Sunday, hitting a convoy of the Sunni militants moving to attack Kurdish forces, defending the autonomous region's capital city, Irbil, the Los Angeles Daily News reports.
The recent American airstrikes have helped the Kurdish achieve its first victory and the Peshmerga fighters recaptured two towns near Irbil over the weekend – thanks to the deadly assaults from the US warplanes.
Iraqi Kurds, who have been engaged in intensive fighting with militants – who have overrun major swathe of the country's north and west in their ambition to create a caliphate state – have been complaining that they are under-armed compared to the radical Islamists. This forced the US to break its policy and start supplying arms directly to the region, reports suggest.
This comes at a time when the political crisis has deepened in the country with Maliki accusing the new President of violating Iraqi law after he decided to nominate Haider al-Abadi as the country's new prime minister.
Maliki is seeking a third term, but has been increasingly facing criticisms and calls to step down as he has been implicated in stoking the current crisis in the country as the jihadist insurgency group ISIS have led a bloody campaign over the last few months capturing major areas in country's north and west.