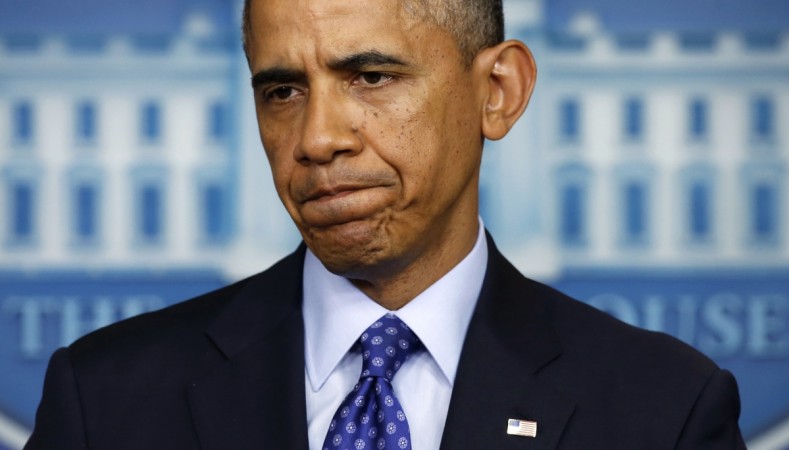 US President Barack Obama has said that he is ready to use American air power in what he called, "targeted and precise military action" against the rising ISIS jihadist, who have seized vast swathes of northern Iraq and are threatening to capture the capital.
Obama made the announcement on Thursday after meeting his national security advisers.
He said that he was sending elite US special operations force of around 300 members to Baghdad in order to help the Iraqi forces wake up in the battle fields, who have been crumbled in the face of the advancing insurgents. But Obama stressed that the American forces are not going to fight on the ground.
"We always have to guard against mission creep, so let me repeat what I have said before, American combat troops are not going to be fighting in Iraq again," he said.
The Special Forces being deployed to Baghdad will train and advise the Iraqi security forces, who have lately been hammered and humbled by the aggressive jihadists poised to capture the entire northern swathe of Iraq in their ambition to invent a place, the name of which they are themselves known by: the Islamic State of Iraq and Syria (ISIS).
The key role of the US advisers will be to keep a keen eye around Baghdad's perimeter, "making sure it is not overrun", he said.
Obama's much calculated move – along with his subtle warning to Iraq's Shiite prime minister, Nuri al-Maliki that he had failed to quell the advancing insurgents – opens a new chapter in the American engagement into a war inside a country, which Obama once thought he had left behind.
The announcement came after the notorious jihadists seized the military base once used by Saddam Hussein – the deposed dictator of Iraq – to manufacture chemical weapons, just outside the city of Sammara, an hour's journey from the capital.
The beleaguered Iraqi army also battled with the al-Qaeda break-away militants at the Baiji refinery, the country's biggest, as the situation in the war-torn, deeply divided Persian Gulf nation appeared to be sinking into a deep quagmire of war and bloodshed.
While the Iraqi government worries that the ongoing crisis will leave the country deeply fractured and wounded, the sleeping Western giant has been forced into action as it apprehends the rise of a new terrorist group that has a potential to pose threat to the American continent by launching another 9/11-style attack in near future – if the power of the ISIS militants is allowed to grow.
At the moment, the use of American force has not been made conditional on Prime Minister Maliki's stepping down, but the US has clearly hinted that he has lost the confidence of Washington.
This comes as the US Secretary of State John Kerry is expected to travel to the war-hit country as part of a wider diplomatic solution to the ongoing crisis.