Days after author Chetan Bhagat made a public statement stating that author Ira Trivedi was trying to run motivated, fake attack and smear campaign against him by posting a screenshot of an e-mail written to him, Ira has now released the entire e-mail exchange trail with Chetan to expose his lies.
A few days ago, Chetan took to Twitter to call out Ira by posting a screenshot of an e-mail from 2013 in which Ira had written "Miss You, Kiss You" in the closing. His tweet came after Ira had accused him and Suhel Seth of sexual harassment amid the ongoing Me Too movement. In his tweet, he called Ira's allegations against him fake.
"So who wanted to kiss whom? @iratrivedi's self-explanatory email from 2013 to me, esp last line, easily shows her claims from 2010 are false, and she knows this too. This mental harassment of me and my family has to stop. Please don't harm a movement with #fakecharges #harassed," Chetan had tweeted.
In response to Chetan's allegations, Ira, in an article published by The Quint, hit back at him saying that he quoted her out of context and maligned her image by sharing partial e-mail on social media which he misconstrued.
She further said that a legal notice is being served to Chetan for lowering her reputation with his said Twitter post.
Here's the complete e-mail exchange between Chetan Bhagat's and Ira Trivedi.
Ira's e-mail: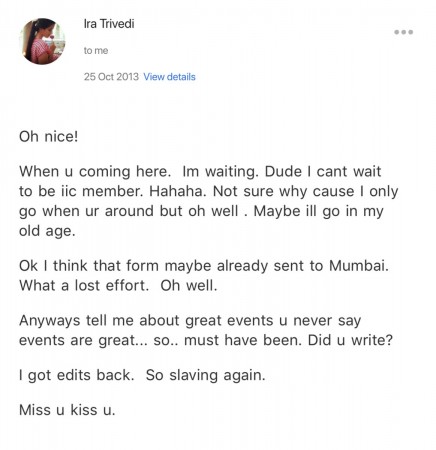 "Oh nice!
When u coming here. Im waiting. Dude I cant wait to be iic member. Hahaha. Not sure why cause I only go when ur around but oh well . Maybe ill go in my old age.
Ok I think that form maybe already sent to Mumbai. What a lost effort. Oh well.
Anyways tell me about great events u never say events are great... so.. must have been. Did u write?
I got edits back. So slaving again.
Miss u kiss u."
Chetan's response:
"Ya, I dunno, just had so much to catch up on, so much to shop and just never got around to it. but spent a lot of time with my ex yoga teacher, and that was q transformative (sic) , so discuss things. he (sic) is a Canadian guy, q (sic) a dude and v (sic) modern approach to life...sort of helps me a lot. I have to go to Pune tomo (sic) for Anusha's bday (sic), be the good hubby and host etc...hope I survive.

miss u...aww thanks

kiss you hmm...really. Figure of speech or something changing around here?

good you have your edits. something (sic) to do..."
Ira's response:
"That's nice ...

On yeah..bday tomo. Im (sic) sure it will e (sic) awesome...don't worry. She ll kove u (sic) for it

Well I had my plate full w (sic) some articles for a couple of inti (sic) publications and I kinda was up and running w (sic) novel and now back to this. Not in the mood really to work on this...Plus diwali stuff starting w (sic) parties and all that...

ok be good...I cant wait to hear about yoga teacher situation."
Chetan's response:
"ya he's patrick...started doing yoga with him only, in hk (sic) . for a couple of years was really into it. became (sic) his friend more than teacher now, so he asks me for guidance about his issues - calls me a v (sic) practical person - i (sic) open up about my life to him..like that we r (sic) the same age. he's obv v (sic) fit and hot too btw (sic). ya nice to meet people with different perspective. nice to just be out, india gets to me sometimes, eve tho (sic) i love it.-

u dodged the k (sic) question."