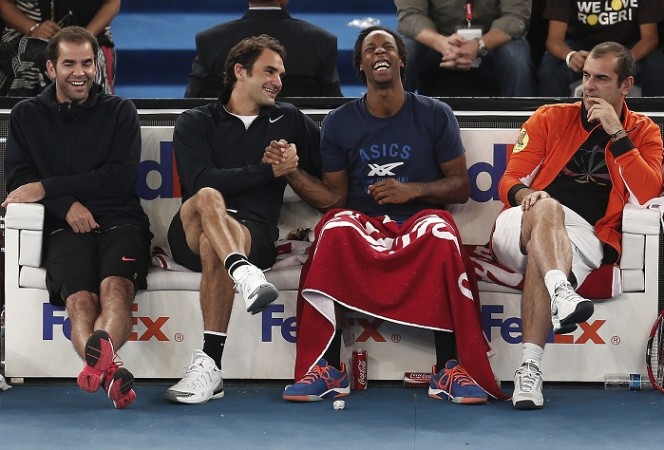 It was all normal this IPTL, for the first half. Yes, there were some outstanding players and tennis being played, and that superstar superwoman Serena Williams also graced this competition with some distinction. But, on Sunday, in New Delhi, it was different, it went into another stratosphere -- the moment the man, clad in black, with that trademark bandana walked on to court, everything changed – tennis was suddenly otherworldly.
Roger Federer has that effect on people – be that fans, who love to watch tennis, or seasoned professionals.
When he walks on to court, he demands that awe, and boy oh boy did he leave everyone at the Indira Gandhi Indoor Arena with their jaws left down on the floor, still trying to grasp the fact that they had seen Roger Federer – THE Roger Federer, the man who has won 17 Grand Slam singles titles, and made the sport of tennis look like an art, rather than a fast serving, groundstroke hitting slug fest – in the flesh, making those strokes, like only he can, inspiring the players around him to raise their game, like only he can, and taking the Indian Aces to that extra level, like only he can.
It was not the usual confident "I know what I'm doing Roger Federer" who came onto the courts in the afternoon on Sunday. There was that feeling of "OK, so what is this all about. No deuces, time constraints and a full team with men and women in tennis?" going around.
But once that great man took that racquet onto those white lines with an opponent or two facing him, it was a completely different story. Then, nothing mattered, other than manipulating that yellow ball to his wish, with that Wilson wand of his doing the trick every single time.
The Indian Aces were trumped in their first set, with Pete Sampras, also making his debut, but nothing quite spectacularly like Federer, going down to Pat Rafter, and they needed Federer to come to the fore, and boy did he do just that.
The next three sets were all played by Federer – the mixed doubles, the men's doubles and the men's singles – and the Swiss great only lost five games in all, while winning 18 of them for the Indian Aces in the process.
The first set, with India's own Sania Mirza, was a walk in the park for the Indian Aces, with the duo overwhelming Daniel Hantuchova and Bruno Soares, who was substituted midway through for Nick Kyrgios, without much effect, 6-0.
Sania was like a nervy school kid who had just met her biggest hero for much of the set (and who can blame her, pretty much all of us would have been the same), but when it came to the tennis, Sania, more often than not, showed just why she is one of the best women's doubles players in the game.
Federer was thoroughly enjoying himself, that was as clear as day, and those immaculate shots just kept pinging in one after the other, much to the crowd's delight.
The second set, with Rohan Bopanna, who also looked like a school kid given the honour of playing with his icon, was also a walkover, really, with the Singapore Slammers (Lleyton Hewitt and Kyrgios) only managing one game, while Bopanna, in the presence of tennis royalty, raised his game to a different level as well, playing a few Federer-like shots – one of them which, when he swung a ridiculous forehand over his head while running back, should be played in the replay reel time and again.
That was followed by a more routine singles match with Tomas Berdych, with the two marquee players fighting it out for every point. Federer would prevail, though, to cap off a ridiculously wonderful IPTL debut, and does it really matter what the final score was when you got to see Roger Federer play in the mixed doubles, the men's doubles and the men's singles for the Indian Aces in India?