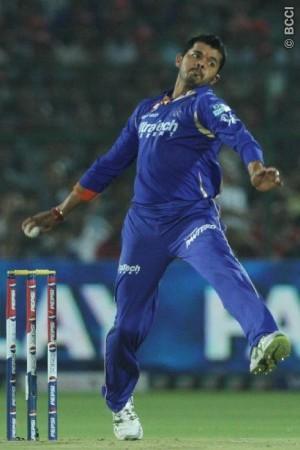 Indian medium pace bowler Sreesanth faces another career setback as a Malayalam director has decided to delete portions of a film that featured the cricketer.
According to reports, Malayalam poet and musician Kaithapram Damodaran Namboothiri had cast Sreesanth for a cameo role in his debut directorial venture "Mazhavillinattam vare" (till the edge of the rainbow).
However, Kaithapram decided to delete the portions after Sreesanth was arrested by the Delhi police for his alleged involvement in spot -fixing during the ongoing the Indian Premier League (IPL).
"I have personally nothing against Sreesanth. He is the best fast bowler in our country. He is a good friend of mine. But considering the negative publicity, it was decided to delete the scenes in which the cricketer appears," Kaithapram told Press Trust of India.
"Mazhavillinattam vare" which is set to hit screens during the Onam festival in September, is about a Pakistani cricketer's life-changing journey to India.
"Sreesanth was in a guest role alongside former player Robin Singh, but we are taking off those shots. As of now, only Syed Kirmani and Robin will feature in my movie," Kaithapram was quoted saying by Deccan Chronical.
The other cast members in the film include Abbas Hassan, a London-based popular Pakistani musician, and Archana Kavi.
Earlier, Kaithapram had landed in a similar situation when he had cast Pakistani cricketer Mohammed Asif. The cricketer was also arrested for his involvement in spot-fixing.
The removal of Sreesanth's cameo role from the film comes soon after he was dropped from the 'Karunya Lottery' advertisement.
In addition, the Kerala Premier League is also planning to drop Sreesanth as its brand ambassador. A number of private companies have also decided to remove the cricketer from their ads.
Sreesanth was arrested by the Delhi police on 16 May along with two other Rajasthan Royals players under charges of spot fixing in three IPL matches. After the incident came to light, the players were suspended by Board Of Control For Cricket In India (BCCI).