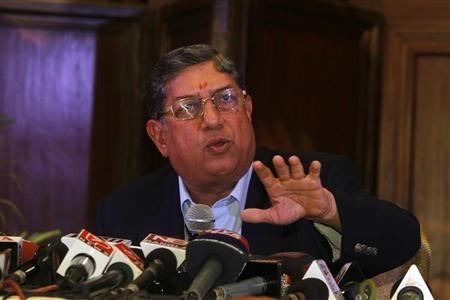 In what could pave the way for N Srinivasan and Raj Kundra to reclaim their respective positions as Board of Control for Cricket in India (BCCI) chief and Rajasthan Royals co-owner, the BCCI has given a clean chit to them in connection with the IPL spot-fixing scandal.
The two-member probe panel, comprising of former High Court Judges T Jayaram Chouta and R Balasubramanian, to enquire into the roles of Chennai Super Kings Team Principal Gurunath Meiyappan, Indian Cements, Rajasthan Royals and its co-owner Raj Kundra, submitted their finding to the BCCI Working Committee on Monday and found no evidence of wrongdoing against them.
"There is no evidence of any wrongdoing found by the judges against Raj Kundra, India Cements and Rajasthan Royals. The report will now be forwarded to the IPL Governing Council which will take a final decision when it meets on August 2 in New Delhi," BCCI vice-President Niranjan Shah told reporters on Monday.
However, it is still not clear if CSK Team Principal and Srinivasan's son-in-law Gurunath Meiyappan has been cleared of the allegations against him.
The findings of the probe panel will be forwarded to the IPL Governing Council and the matter will be discussed at a meeting on 2 August before taking the final decision.
The IPL spot-fixing scandal surfaced after the Delhi Police arrested bowlers - S Sreesanth, Ankeet Chavan and Ajit Chandila, of Rajasthan Royals in Mumbai on 16 May over charges of under performing in the IPL matches. The players were booked under section 240 (cheating) and 120B (criminal conspiracy) of Indian Penal Code (IPC). They were also suspended by the BCCI and their club.
The episode led to the arrest of CSK Team Principal Gurunath Meiyappan and several other bookies in connection with the betting scandal. Rajasthan Royals co-owner Raj Kundra was also questioned by the police over gambling activities before the BCCI suspended him from the club till the pendency of inquiry.
Srinivasan, the owner of CSK, was also forced to step aside as the BCCI chief pending inquiry and Jagmohan Dalmiya was made the BCCI interim chief.