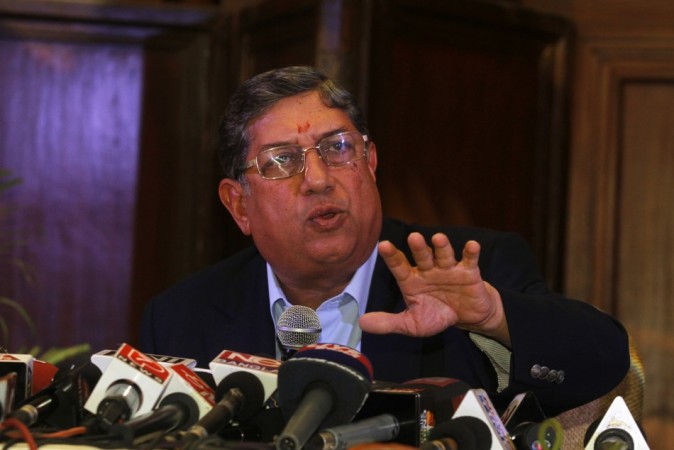 The Supreme Court has asked suspended BCCI president N Srinivasan how he could own an IPL team while remaining at the helm of the cricket establishment in the country.
A two-member special bench of the court dismissed Srinivasan's plea that he should be reinstated as the BCCI chief, following the Mudgal Committee report that cleared him of involvement in illegal activities.
The court cited 'conflict of interest' as it heard Srinivasan's plea.
Srinivasan, who is also the newly elected chairman of the ICC, remains the owner of IPL franchise Chennai Super Kings, and the SC has now criticised the industrialist for conflict of interest.
"You cannot make a distinction between BCCI and Indian Premier League (IPL). IPL is a by product of BCCI," the court stated.
"Some people who are in BCCI now own a team. It has become a mutual benefit society. Ownership of team raises conflict of interest. BCCI chief has to run the show but you have a team which raises questions. Can BCCI president own a team? How far is this fair?"
The SC special bench also suggested that someone who owns an IPL franchise - and against whom there have been complaints of corruption - cannot be the leader of BCCI on ethical grounds.
"You are only assuming you have been given a clean chit," the judges told Srinivasan.
The situation has considerably toughened the chances of N Srinivasan making a return to the helm of BCCI anytime soon. Also, there are now fresh question marks over the fate of Chennai Super Kings, and its former team principal and Srinivasan's son-in-law Gurunath Meiyappan.
Meanwhile, BCCI has dismissed any conflict of interest. The board has so far stood behind both Srinivasan and IPL Chief Operating Officer Sundar Raman, after holding an emergency working committee meeting on 18 November.
The Mudgal Committee had pointed out that Srinivasan and four other BCCI officials were well aware of the violation of the Players Code of Conduct by several IPL players but no action was taken.