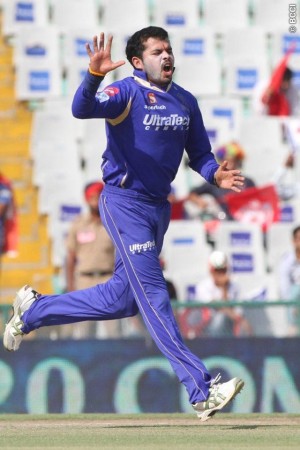 The arrested of three Rajasthan Royals players and a dozen of bookies in connection with spot-fixing scam in the Indian Premier League (IPL) have shaken up cricketing extravaganza but it could be just the tip of the iceberg, as more names are expected to pop up through the investigation.
The Delhi Police on Thursday arrested three bowlers - S Sreesanth, Ankeet Chavan and Ajit Chandila - of RR in Mumbai, over charges of spot-fixing in the ongoing IPL matches. They were later produced before the Saket Court and placed in custody for five days. Police have also detained a dozen of bookies.
It seems the police have gathered more information on the betting network during the interrogation of the arrested cricketers and bookies. They said that the Rajasthan Royals players have confessed to spot-fixing during the interrogation while their lawyers and family members denied.
With the police saying that they can't rule out spot-fixing involving other IPL teams, apart from Rajasthan Royals, lot more things could come out of the Pandora's box as investigation progresses. The investigating team also claimed that the arrested cricketers have named three more players from Rajasthan Royals but would go forward only after verifying the claim.
The police also said that Chandila's conversation with one of the bookies indicated that the scandal could have happened in the previous edition of the IPL. A report by Firstpost also said that cricketer-turned-bookie Amit Shah claimed during an interrogation that one of the matches between RR and Delhi Daredevils in IPL 5 might have been fixed, thus putting two players under the scanner.
"In the match, Rajasthan were chasing 152 runs and had lost only three wickets," a Delhi police official told Firstpost. RR ended up scoring 11 runs of the final over, running short of a run for a win.
Now, the police are probing into matches involving teams other then Rajasthan Royals and even the previous editions.
With the Mumbai police recovering a laptop, an iPad, a mobile phone, a data card, cash and a diary reportedly belonging to Sreesanth on Saturday, more revelations could follow. The alleged link of the scandal with the Pakistan-based underworld don Dawood Ibrahim could add more salt to the wounds.
The players have been charged under section 240 (cheating) and 120B (criminal conspiracy) of Indian Penal Code (IPC). The BCCI has also suspended all the three players in question after the news of their involvement in spot-fixing surfaced.