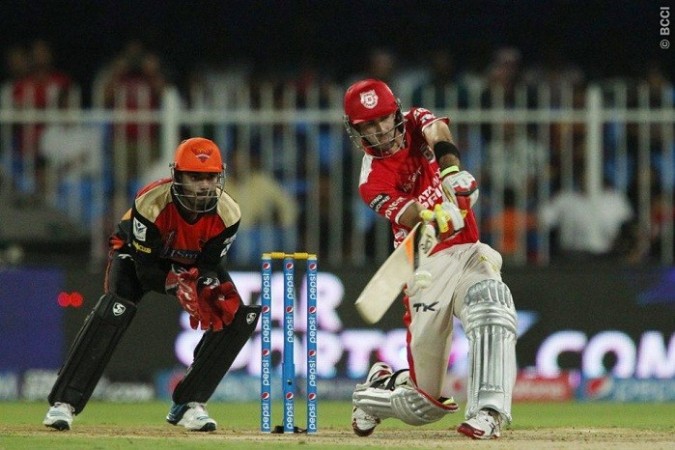 One thing you don't do is drop Glenn Maxwell, especially not when he is in the mood that he is in. David Warner will remember this particular drop, a simple dolly at long-off when his compatriot was on only 11, with the Australian blazing a trail of glory yet again, smoking the Sunrisers bowlers with ridiculous ease to storm to a stunning 43-ball 95 to give the Kings XI Punjab yet another massive victory.
It was not a chase this time from Kings XI, but the script was pretty much the same, with the Australian going nuts, making the bowlers look like heaven-sent angels brought into this earth to allow Maxwell to hit sixes at will.
The result of nine sixes and five fours in his 95 was Kings XI storming to 193 for six in their 20 overs, with the Sunrisers Hyderabad not even coming close in the chase, finishing on 121 all out in 19.2 overs to hand the Punjab side a big 72-run win.
One, or two, of Shikhar Dhawan, Aaron Finch and David Warned needed to take-off in the chase for the Sunrisers to stand any chance of a victory, but the three vaunted top order batsmen yet again failed to ignite, and with it pretty much handing the match to Kings XI after just five overs in the second innings.
Dhawan (1, 3b) was the first to go, playing a poor shot away from his body and feathering one to wicketkeeper Wriddhiman Saha off Mitchell Johnson.
Lakshmipathy Balaji (4-0-13-4) then turned the game firmly in Kings XI's favour, sending both Finch and Warner packing in the same over. Finch (19, 15b, 2x4, 1x6), first, was castled by an in-dipper from Balaji, before the medium pacer dismissed Warner (8, 12b, 1x4), with the left-hander giving a simple catch to Maxwell at point after the ball reared up from a good length.
With three of their best batsmen already back in the hut, and needing 161 from 15 overs, it was curtains for the Sunrisers, as Kings XI romped to their third straight victory.
Earlier, Maxwell singed the Sunrisers Hyderabad in the first innings to basically put the game out of their reach after just 20 overs of the game. It, of course, could have been much different, had the Sunrisers hung on to their catches and/or kept a little bit of discipline in their bowling, with Maxwell given to massive lives.
Before all that there was Virender Sehwag (30, 22b, 2x4, 3x6) who got off to a decent start, stroking a few nice boundaries, including three sixes, to set those pulses racing, before inevitably holing out in the deep when he looked for another smash outside the ground.
Cheteshwar Pujara, who did decently well to hang around in Kings XI's big chase against the Rajasthan Royals in their previous game, again did what was probably expected of him, even if there might have been too many dot balls in his 32-ball 35 (6x4, 0x6). The highlight of Pujara's innings was three boundaries in just four balls off Dale Steyn, setting the tone for Maxwell and whoever else felt like it to take the bowlers to the cleaners.
Pujara fell in the 11th over to Darren Sammy, but an over before that the Sunrisers could and should have turned the game in their favour, consigning Maxwell to an early shower. The Australian, coming off scores of 95 and 89, thought he was finally going to be dismissed early on, on just 11, when he mistimed a shot off Karn Sharma straight to David Warner at long-off. However, Maxwell's compatriot let the ball slip through his fingers, with his reaction, horror-filled and I-want-to-bury-myself-and-never-come-back, after the drop telling everything you needed to know.
Maxwell made the Sunrisers pay for that miss, and how, smoking the ball to and past the boundary line, moving from 11 in seven balls to let's run for cover 62 in 24 balls. Part of that assault was three sixes in one over from Amit Mishra, with David Miller also joining in the fun to take the leg-spinner, who just could not find his mojo, for a massive 25 runs.
So, the damage was done to a large extent, with the Kings XI on 139 for two in 14 overs; at least now the Sunrisers would make sure there would be no mistakes. Well, not quite. Darren Sammy picked up Maxwell, who failed to clear the midwicket boundary and found the fielder, only to see his luck was definitely in, with the umpire calling for a replay over the no-ball and the pictures showing a Sammy overstepping the mark by a large margin.
Maxwell added a little over 30 more runs following that life, reaching 95, before another attempt at a mega six, finally led to his demise with Sammy completing the catch at long off and Mishra given some consolation of a wicket.
The Sunrisers actually did pretty well to pull things back in the final five overs, leaking just 41 runs, with Bhuvneshwar Kumar, seemingly bowling in another game completely, conceding a mere 19 runs from his four overs, while also picking up an impressive three wickets.
However, at 193, the damage was already done as the Sunrisers surrendered rather meekly.