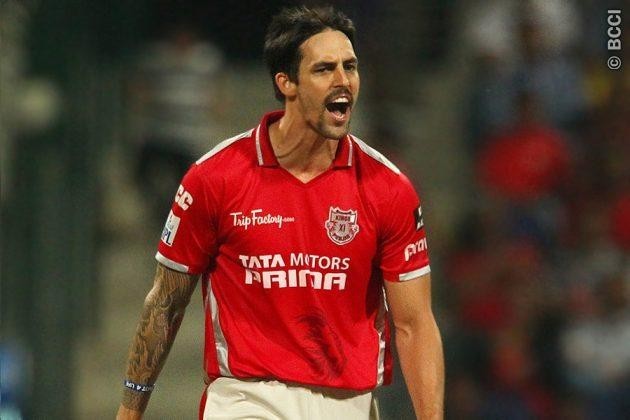 Only days after revealing the hidden truth of most fast bowlers that T20 cricket is not the favourite of formats, Mitchell Johnson is doing all that he can to prove he can be good at any format he plays.
He's easily one of the all-time best bowlers in Test cricket and doesn't mind bowling a constant 150kmph while donning the white and the baggy green. But, changing colours to bright red and silver, tasting the spices of India, enjoying the dull bliss of the desert in the UAE, Johnson says no matter whether it's Test cricket or not, it's still all about having a good contest between the ball and the bat.
"It's more about mind games in the T20 format," Johnson told the IPL official website. "Overall, you can still bowl a good short ball at the ribs and get the desired result."
"Guys will go for more attacking shots off short balls in this format and that makes it an interesting delivery to bowl. It makes the contest between the bat and the ball more enjoyable."
The first couple of matches in the IPL, where Johnson represents the KXIP, didn't get to see the Mitchell Johnson magic that was booming before the toe infection. He was probably the smartest of picks by the Punjab franchisee as he's coming off an Ashes series that'll probably go down in history as Mitchell Johnson Ashes, according to experts.
He had to miss the T20 series of the South Africa tour and the World T20 tournament in Bangladesh due to the infection of his right toe, but was fit by the time IPL 7 kicked off. The Aussie pacer picked up 2 wickets on Saturday against KKR to finally get back in the mix of good wickets.
"Yes, I've started the tournament quite slowly, coming back from my toe infection and it has taken me a few games to get into it," Johnson said. "Probably the best I felt with my bowling was during the training yesterday [Friday]; I felt like I am in my cricket mode again.
"Today [Saturday], I felt I was back to bowling like I had been bowling for the past few months. That's where I wanted to get to - bowling as aggressively as I was a few days ago.
"I remember sitting around with the Australian team on our tour to South Africa, watching the IPL auction," the 32-year-old added. "When it came to an end, I actually said that this seems like a very well-balanced and all-round side. It seems to be going on that way for us at the moment. We've had some very good wins. We've been sticking to our guns and have been going really well."
Image credit: Ron Gaunt/IPL/SPORTZPICS