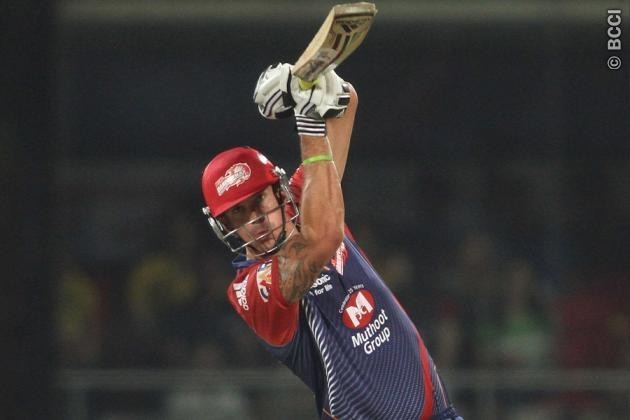 With only four days to go for Delhi Daredevils' IPL 7 opening match against Royal Challengers Bangalore in Sharjah, skipper Kevin Pietersen is racing against time to be fit, according to reports.
Pietersen is nursing a fractured finger on the right hand. Though he is already in the UAE with the team, it is said that he did not go through a full-fledged practice session yet and instead took to getting to know the team members better.
"KP has a fractured finger," a DD source was quoted by TOI. "That is why he isn't taking an active part in the drills. A well-known doctor has been called to attend on him but he will only meet him in the UAE. He is supposed to be treated there so he can recover faster and take part in the first match. But he is certainly racing against time. It could be touch and go for the first couple of matches."
But even before the season started, Pietersen was wearing a protective gear on his right hand, due to an injury he had suffered previously. The official in the DD camp also stated that there was no reason to worry as it was only a sore from the previous injury.
"It's just a sore hand. He had an injury earlier and it's just sore from that. KP is just taking precautionary measures by not going through the extensive drills."
DD is extensively banking on the leadership skills of Pietersen and is keen to provide him the best of conditions, so as to help him leave his unimpressive past captaincy memories with England behind him.
"KP is a different leader now," DD assistant coach Eric Simons said. "He has grown as captain since he had a tough time as the England skipper in 2009. He has been interacting a lot with youngsters and getting to know the players. He is certainly not a problem child."