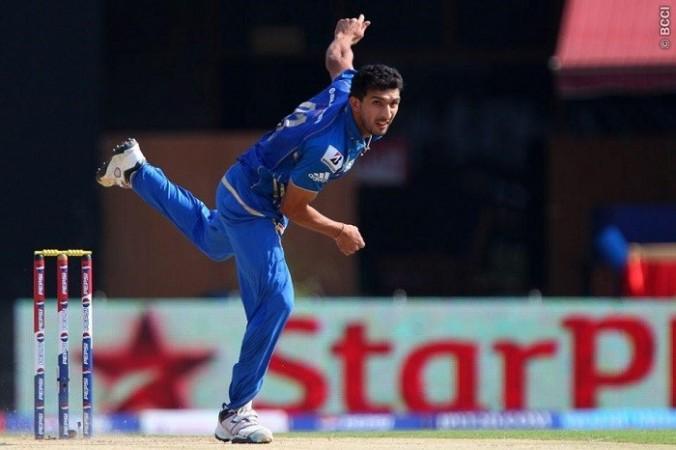 The all-rounders were always going to be a we-want-them bunch at the IPL 7 auction day 2, but even Rishi Dhawan, himself, would not have envisaged being the most expensive buy of the day so far, by some distance.
Dhawan was wanted by the majority of the IPL franchises, with the we-are-building-a-scary-good-team Kings XI Punjab getting the former Mumbai Indians player for Rs 3 crore.
Uncapped players: All-rounders:
Yogesh Nagar: Unsold.
Rajat Bhatia: The utility man was a wanted man with KKR, Delhi Daredevils - two former teams - and Rajasthan Royals fighting it out, with Bhatia eventually going to the Royals for Rs 1.7 crore.
Ashok Menaria: Unsold, no bids were forthcoming from his former team the Royals.
Mandeep Singh: It looked like he might go unsold, only for RCB to make a late bid, before CSK and Mumbai Indians charged in with the Sunrisers then raising that paddle. CSK and SRH went at it for a while, before the latter won the bid at Rs 80 lakh. Kings XI decided to match the bid, meaning Mandeep would remain with the Punjab franchise for next season at least.
Rishi Dhawan: The Sunrisers Hyderabad have made a few astute buys already, and SRH, after seeing off competition from Mumbai Indians and Delhi Daredevils, went into battle with the other team that did so well on the first day -Kings XI Punjab - with the latter eventually prevailing. But then, this bidding process is never that simple, with the Rajasthan Royals, another one of those teams that love a bargain, raising the paddle, and almost clinching the deal, only for the Kings XI and Preity Zinta to stay stubborn and win the bid at are-you-sure-you-want-to-pay-so-much Rs 3 crore.
Parvez Rasool: RCB came in with an opening bid, but it escalated from there with the Delhi Daredevils and the Sunrisers Hyderabad taking it to near Rs 1 crore. The Sunrisers Hyderabad won that particular battle at Rs 95 lakh.
Kevon Cooper: The Rajasthan Royals were the only bidders, expectedly taking the West Indian back at a not-so-bad-price of Rs 30 lakh.
Ryan Ten Doeschate: Richard Madley banged that hammer saying the associate nation player, who have been tagged under the uncapped set, was unsold, only for KKR to make the latest of bids at the base price of Rs 1 crore.
Mithun Manhas: CSK were the only bidders, and Manhas is a Chennai player at Rs 30 lakh.
Kevin O'Brien: There were no takers for the Irishman, who not so long ago scored a blistering hundred against England in the 2011 World Cup.
Iqbal Abdulla: Delhi Daredevils vs CSK vs Rajasthan Royals - Rahul Dravid won that battle at Rs 65 lakh.