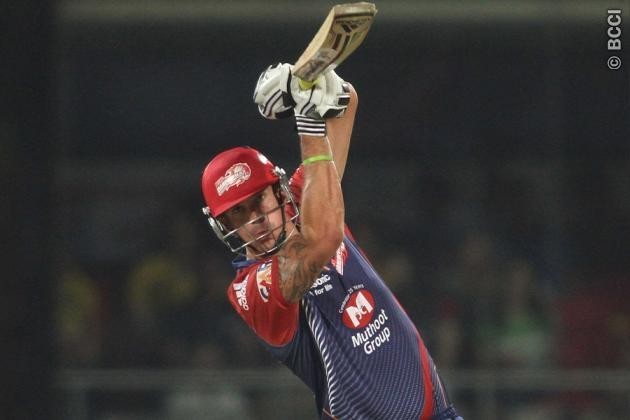 The likes of Virender Sehwag, Mahela Jayawardene, Jacques Kallis, Kevin Pietersen and Yuvraj Singh will come under the gong first up in the IPL 7 auction on Wednesday, with the list being trimmed down to 514 from 895 initial names.
With plenty of buying to do for the IPL franchises, the 16 top players, who have been slotted at the highest base price of Rs 2 crore, will be a highly sought-after bunch.
The top bracket players also include Mitchell Johnson, Murali Vijay, in the first slot of the auctions, George Bailey, Michael Hussey, Dinesh Karthik, Brendon McCullum, Amit Mishra, Brad Hodge, Shaun Marsh, Ross Taylor, Manoj Tiwary, Robin Uthappa, Tillakaratne Dilshan, Praveen Kumar, Mitchell Starc, Pragyan Ojha, Alex Hales, Marlon Samuels, Brett Lee and Ashish Nehra.
In the 514-player list, 219 of them are capped players (169 from India, 50 from overseas), with a further 292 uncapped players (255 from India, 37 from overseas) also up for grabs.
One player likely to be the most-wanted in the auction - Corey Anderson (base price of Rs 1 crore) - is slotted in as the 83rd player, and most of the franchises will, no doubt, have quite a bit of money tucked away for just that moment.
Another all-rounder likely to be targeted by a lot of the IPL teams is Glenn Maxwell, who has been in stellar form in the T20 format. Maxwell did not get much of an opportunity to shine for the Mumbai Indians, but if he gets into a side where his talents will be used to the hilt, then he could be one of the standout players of IPL 7.
Pietersen, of course, after seeing his career with England end abruptly, will now be available for the entire IPL, and therefore will be the cynosure of many IPL teams.
Richard Madley will again conduct the auction, which is set to take place in Bangalore on Wednesday from 9.30 am onwards.
To read the entire list of players up for IPL 7 auction, click HERE.